Oktane13: Identity is Hot, and So Is Our Lineup of Speakers
The countdown continues – we're less than five weeks away from Oktane13 and excited to announce an incredible lineup of speakers at our inaugural user conference.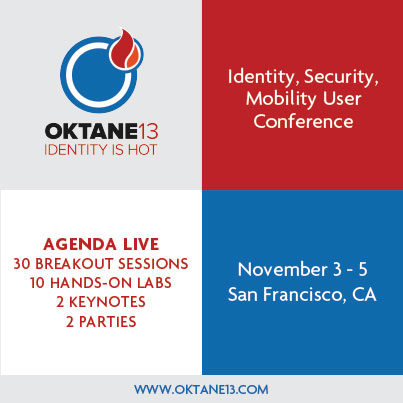 A major theme at Oktane13 focuses on how businesses are navigating changes in IT, such as movement to the cloud, increased mobile adoption and changes to collaboration. Our engaging sessions will go in depth on how businesses can take advantage of these changes – and how identity management is at the core of the solution.
Oktane13's two keynotes (featuring Geoffrey Moore, author of "Crossing the Chasm," and Ben Horowitz, cofounder of Andreessen Horowitz), 30 breakout sessions and 10 hands-on labs will cover best practices from customers, partners and product experts. We'll hear real-world experiences and insights into implementing Okta from customers including Rosetta Stone, LinkedIn, ServiceSource, AMAG Pharmaceuticals, Post Foods, Allergan, National Geographic, Western Union, Informatica, School of Rock, and Splunk, as well as best practices from partners such as Box and Deloitte. We've also added hands-on labs and an expert bar to give you direct access to Okta experts for additional training on integrating top apps, using Okta APIs, and planning a portal project.
Here's a hint at a few sessions you'll see this year:
Moving Identity to the Cloud: Looking Beyond Active Directory Nathan McBride, VP of IT at AMAG Pharmaceuticals
At some point, when considering the cloud, every company has to make a critical decision about their authentication methods for cloud services. In this session, Nathan McBride, vice president of IT and chief cloud architect at AMAG Pharmaceuticals, will discuss how and why AMAG made the decision to eliminate Active Directory, along with the steps they took to achieve this and the results of their success in severing the ties.
Enabling Shared Cloud Services for Franchises Evan Trent, SVP of Corporate Development at School of Rock
The School of Rock music program has nearly 150 locations and teaches more than 15,000 students worldwide. Each School of Rock franchise is guaranteed an exclusive operating territory, extensive training, and access to a proprietary IT infrastructure. Find out how School of Rock moved their IT infrastructure entirely into the cloud, and how, in the process, they chose an identity solution that gives their users access to the tools they need and manages IT for a highly distributed user base from a central corporate office. In this session, Evan Trent, senior vice president of corporate development, will discuss the benefits and challenges of moving to the cloud and will provide valuable lessons for other fast-growing companies looking at cloud solutions.
Managing Okta in a Hypergrowth Company: Scaling 10x at LinkedIn in 2 Years Chris Niggel, Cloud Security and Identity Management at LinkedIn
Working in a fast-paced environment that embraces BYOD and all OS flavors means facing unique challenges around providing seamless access to an ever-expanding range of cloud services while ensuring protection of our member data. LinkedIn has learned a great deal in the process of going from 500 Okta users to more than 5,000, and will share some of the solutions they developed that allow a single Okta admin to add dozens of applications a year, manage constant user change, and keep our auditors happy. This moderately technical presentation from Chris Niggel, cloud security and identity management at LinkedIn, is aimed at IT managers and system administrators in rapidly growing companies who want to simplify their user management through Single Sign On.
Stay tuned for more spotlights on customer sessions over the coming weeks, and don't forget to register for Oktane13. Seats are filling up fast! Use promo code OKTAWEB to receive 50 percent off your registration for November 3-5 in San Francisco. You can also learn how to win a FREE trip to Oktane13 in our social media contest. Share a Vine video or Tweet about #Oktane13, and one lucky winner will win a free trip to SF!