Celebrating Our 2019 Customer Award Winners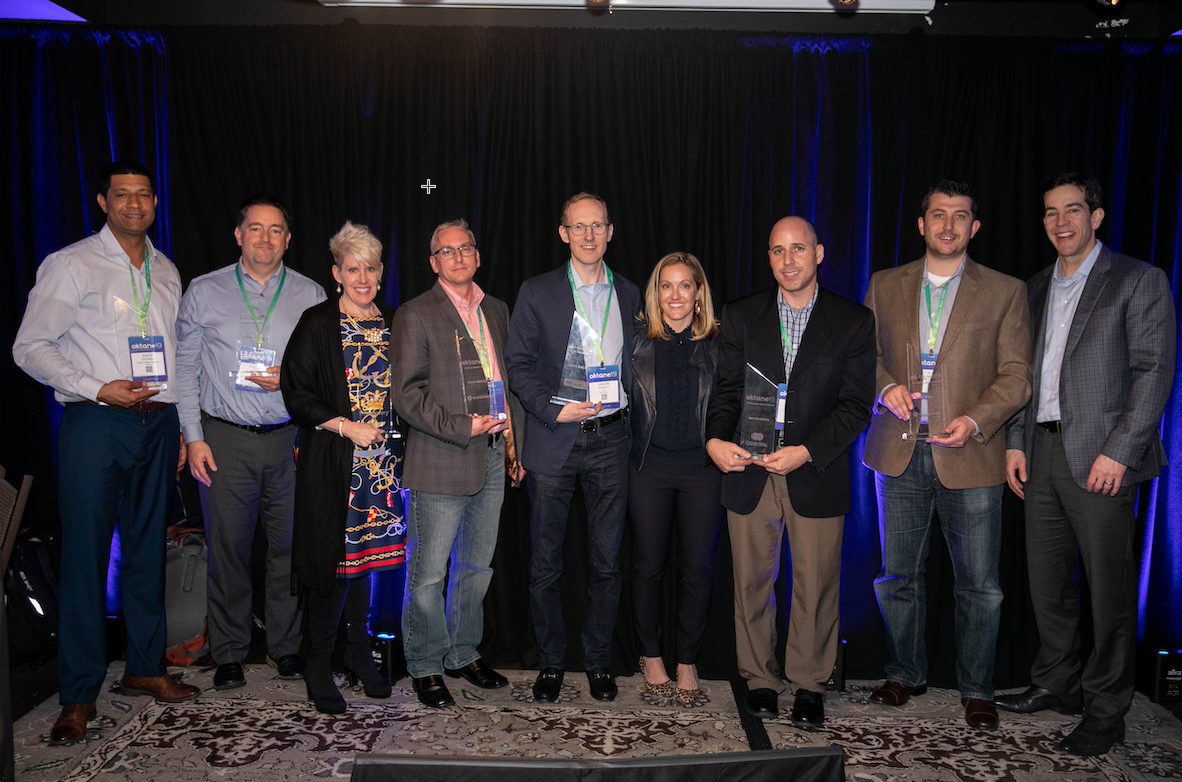 The past year has given us many reasons to celebrate. To start, we celebrated Okta's 10-year anniversary and marked the occasion by bringing Oktane back home to San Francisco. We expanded our global reach, opening new offices across Europe and North America. And most importantly, we continued to work with our exceptional customers, who are leading the charge in driving innovation in their respective industries.
We'd like to recognize the individuals who are exploring new ways of doing things at their organizations. These Okta customers have been implementing modern technology to solve some of today's toughest business challenges, including adapting to modern cloud architecture, seamlessly bringing together teams post-M&A, and embracing a security-first approach to IT.
After the difficult task of choosing 37 finalists from a large pool of amazing individuals, our panel voted on a winner for each of our eight categories: The Challenger, The Evangelist, The Lightning, The Boundless, The Believer, The Innovator, The Builder, and Okta for Good.
The Challenger
The Challenger award is given to an outstanding customer who challenges the status quo and drives great technological advancements, both for their companies and for Okta.
This year our Challenger is Ben Robbins, a senior solutions engineer at a nationally-ranked, nonprofit healthcare organization who is setting new standards for quality and technology in patient care. As part of his role, Ben championed security deployment, moving the organization from RSA's SecurID to Duo's Multi-Factor Authentication (MFA) to Okta. Under his watch, over 18,000 users were deployed to Okta Adaptive MFA in just one month, preventing potential threats by making the authentication process more secure.
The Evangelist
The Evangelist award recognizes customers who take advocacy to the next level, helping teach others about the benefits of Okta.
This year's award recipient is Ilir Lako, program manager, patient and consumer digital experience at Dignity Health. As part of its mandate, Dignity Health is committed to delivering high-quality, affordable health services that improve people's quality of life. Ilir was a key player in Dignity Health's project to redesign its patient portal, using Okta Authentication and User Management to help manage patient identities. Continually showcasing his commitment to Okta's solutions, Ilir has actively participated in Okta events such as healthcare forums, reference calls, and webinars—he even presented at Oktane19.
The Lightning
The Lightning award honors customers who have rolled out Okta to hundreds of employees and users in a matter of weeks—or sometimes, even days.
This year, Jill Porubovic, global vice president of technical workforce at Discovery Communications, accomplished a lightning-fast rollout to 17,000 employees in 35 countries. Discovery is a global leader in real-life entertainment, serving a passionate audience of superfans around the world through a variety of brands. Tasked with leading and supporting Discovery's technical workforce, Jill and her team were instrumental in quickly and effectively integrating Scripps Networks with Discovery Communications following their merger, all the while maintaining a seamless experience for end users.
The Boundless
The Boundless award celebrates customers who extend Okta to manage its workforce and customer identities. This year's winner is Cristian Pimentel, director, security and engineering at ResMed.
ResMed engages in the design, manufacturing, and marketing of equipment for the diagnosis and treatment of sleep apnea and other respiratory sleep disorders. Cristian has been instrumental in developing an organization-wide understanding of Okta's value for the last two years. As ResMed executes an aggressive M&A strategy, it now uses Okta across its enterprise of 6,000 employees to seamlessly onboard new employees and give them Day 1 access to the tools they need.
The Believer
The Believer is awarded to loyal customers and true believers who have brought the power of Okta to a new company and have been successful with more than one Okta implementation. This year, this was best represented by Steve Gentry, who brought Okta to Workfront in the role of chief security officer.
Workfront is a management platform that combines work, collaboration, and digital content in a smart, easy-to-use solution. Steve knew that Workfront was growing into an enterprise, and thanks to his prior experience using Okta at Adobe, he was confident that Okta could position his current organization for long-term success. Now Workfront uses Okta's workforce identity products to seamlessly and securely onboard best of breed technologies for its employees.
The Innovator
The Innovator award acknowledges customers who have been around for more than 100 years and have driven their companies to success by modernizing their approach to IT.
For the vice president of digital technology at one of the largest U.S. insurance companies, that focus is critical to the organization's success. Founded in the early 1900s, the organization is an American insurer group of automobiles, homes, and small businesses. The winner of this award was instrumental in launching and leading a new Customer Identity initiative across teams. She helped migrate 4.2 million customers using their customer portal to Okta Universal Directory, so everything is efficient and streamlined.
The Builder
The Builder award is given to developers who use Okta as the identity layer for their products and services so they can focus on building the features their customers care most about.
Rocco Martin, solutions architect at Umpqua Bank, embodies that spirit. Umpqua is a regional PACNW bank serving West Coast states and has over $24 billion in assets. At the bank, Rocco is responsible for helping all 3rd-party application vendors get on board with Umpqua's goal of being the sole identity provider for their customers, even when some vendors aren't ready to support an external identity solution. The bank now uses Okta to manage 22,000 customer identities on its application.
Okta for Good
The Okta for Good award highlights a nonprofit customer using the Okta Identity Cloud to accelerate its mission and deliver lasting impact.
This year Jason Bennett, chief technology officer at Crisis Text Line helped the organization surpass 100 million messages exchanged on its platform. Crisis Text Line provides free, 24/7 support for people in crisis, via text. Crisis Text Line built their login flow and training portal on Okta to ensure that staff members and volunteer Crisis Counselors can securely provide support and access resources, anytime and anywhere. As CTO, Jason is responsible for everything from ensuring system availability to long-term architecture planning and vendor negotiations. Jason is an advocate for all of Crisis Text Line's stakeholders, including staff, volunteers, and the vast number of users who rely on the service.
These eight customers are among so many more who are working with Okta to do incredible things within their organizations. Check out their stories here.