Authentication
Embed secure login and single sign-on for custom applications
50 million
daily authentications on the Okta Identity Cloud
2 weeks
eliminated per SAML integration
10+ SDKs
in the languages you work in
Frictionless login
Simplify sign-in with a secure, seamless experience that will delight your end-users.
Social login and generic OIDC support
Microsoft, Facebook, Google, LinkedIn and any 3rd party OIDC provider support for easy registration and login for end users
Single Sign-On to 3rd party applications
Easily connect users to your on-prem or 3rd party cloud apps. With over 6,000 pre-built integrations, the Okta Integration Network is the broadest in the industry.
Password security, enforcement and encryption with the strongest hashing algorithm available and flexible password policies
Identifier-first login flow and IDP discovery
Simply route users to the correct next step based on adaptive context
Then
Present password field
---
---
Customizable user experience
Easily embed authentication using our pre-built sign-in widget or customize the experience to match your brand.
Prebuilt sign-in widget
Okta-hosted or customer-hosted options allow a dev to deploy a sign-in experience in front of any app or portal in minutes. Pre-built UI for:
Login
Registration
Account recovery
Password reset
MFA enrollment
Account verification
Broad language support
SDKs to enable modern frictionless login in minutes
Create custom experiences by exposing identity functionality with the broadest and deepest set of REST APIs in the industry.
Get started ›
Fully customize the authentication experience to your organization's look and feel
Custom domain, error pages, and emails
Centralized administration
Centralize access management company-wide. Give the security team more control.
Flexible policy engine
Granular user, group, app and contextual sign-on policies paired with password complexity and logout experience requirements
Pre-built admin and developer UI with scoped admin roles
Security reporting
Real-time log of events, out-of-the-box reports, integration to SIEMs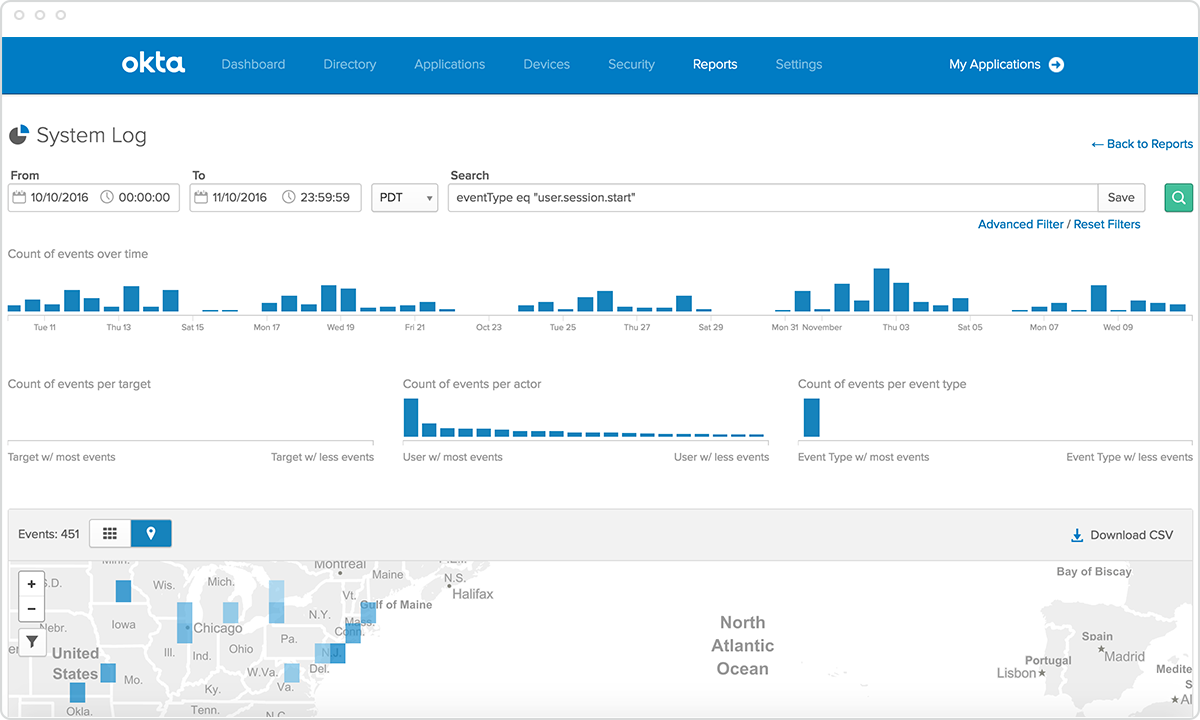 Pre-Built integrations with your SIEM