User Management
Add user sign up to your apps and manage customer identities at scale via APIs or from Okta's user-friendly admin console.
Friction during registration impedes application adoption. On average the cost of a password reset by help desk is $70.
Easily manage customer profiles
Unify access policy assignment, group membership definition and security policy enforcement.
Universal Directory
Highly scalable cloud-based user store to manage all your users, groups and devices, mastered in Okta or from any number of sources.
Cloud-based user store scales effortless with the growth of your application
Serves as a single location for all types of user accounts, including AD/LDAP or external resources
Import users from various sources and assigned access to them in a single admin console
Use groups, group rules and policies to assign partners access to your resources
Okta Expression Language
Expressions allow you to reference, transform and combine attributes before you store them on a user profile or before passing them to an application for authentication or provisioning.
Profile mapping
Take attributes from the profile schema of one application and easily map them to attributes for an application with a different schema.
Create frictionless registration experiences
Build using Okta's APIs or out-of-box workflows.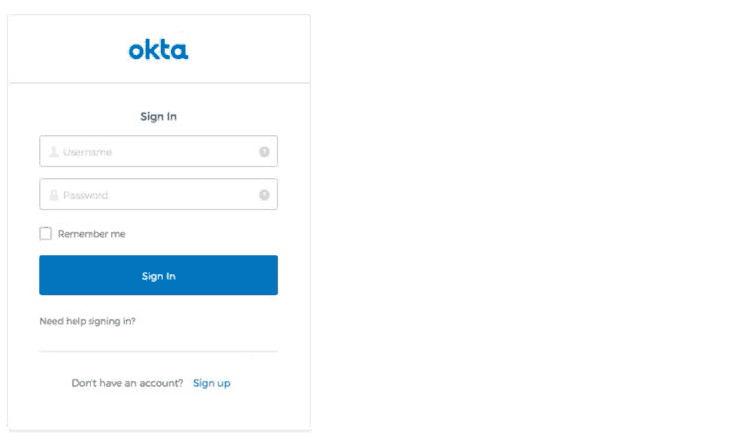 Self-service registration
Easily add the ability to allow your users to self register accounts by embedding a "Sign Up" button that links to a customizable registration form. Manage fields and post registration processes such as requiring an activation email from Okta's administration console.
Allow customers to create their own accounts
Fully customizable
API-based user management
Programmatically create and manage users using powerful APIs or SDKs built for automating user tasks.
Pre-built workflows
Out-of-the-box workflows for password reset and account recovery that are customizable for a broad set of use cases. Customizable email templates and SMS responses in over 20 languages.
Effortlessly migrate large scale user stores
Seamlessly migrate large scale legacy deployments into a modern cloud infrastructure.
User migration
Seamlessly migrate user profiles, including credentials from existing user stores into Universal Directory.
Okta provides several methods of migration including, imports, live migration, or JIT methods.
Import matching rules
Define policies to selectively import users from external directories. Matching rules makes the creation of users easy and fast. With the rules in place there is no need to manually confirm users, simply let the rules complete their processing.