Okta Q2 Virtual Hackathon: Overcoming the Challenges of Innovating Virtually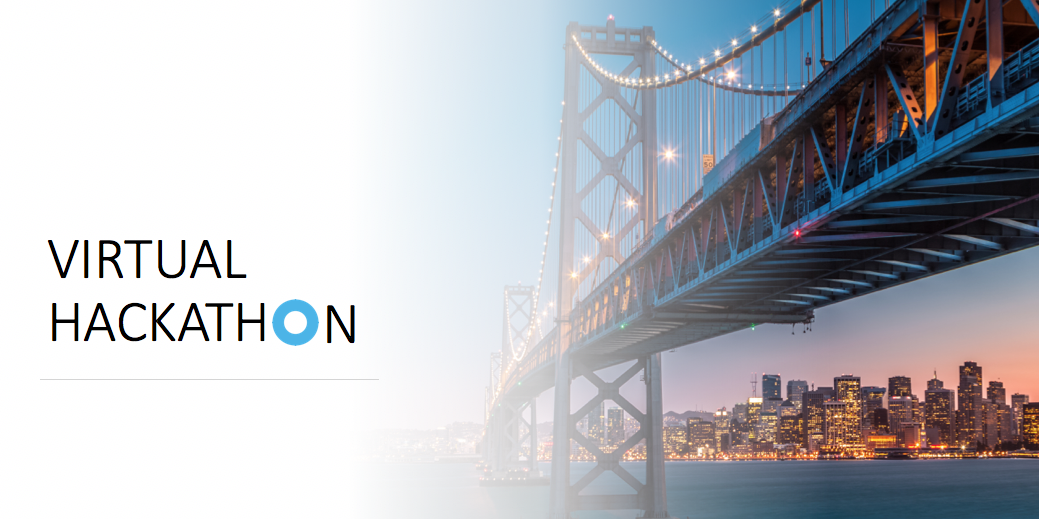 One of Okta's five core values is to "Never stop innovating," whether that's innovation in the products our customers love, the impact we have on our community, or anything in between. Okta has a culture of builders, and this is especially true of our Technology Organization. Our teams love being creative, exploring new technologies, and solving hard problems. They embody our core values by pushing the boundaries of innovation every day.
Embodying a culture of innovation
To foster the spirit of innovation and celebrate our creativity, we hold a biannual company hackathon that gives everyone in our Technology Organization the opportunity to collaborate on hack projects. Members of our organization self-assemble into teams of up to five people, then use software to build something new over the course of 48 hours. In addition to being a fun and exciting activity, several past hack projects have been integrated into Okta's product and infrastructure to make our world-class solution even better for our customers.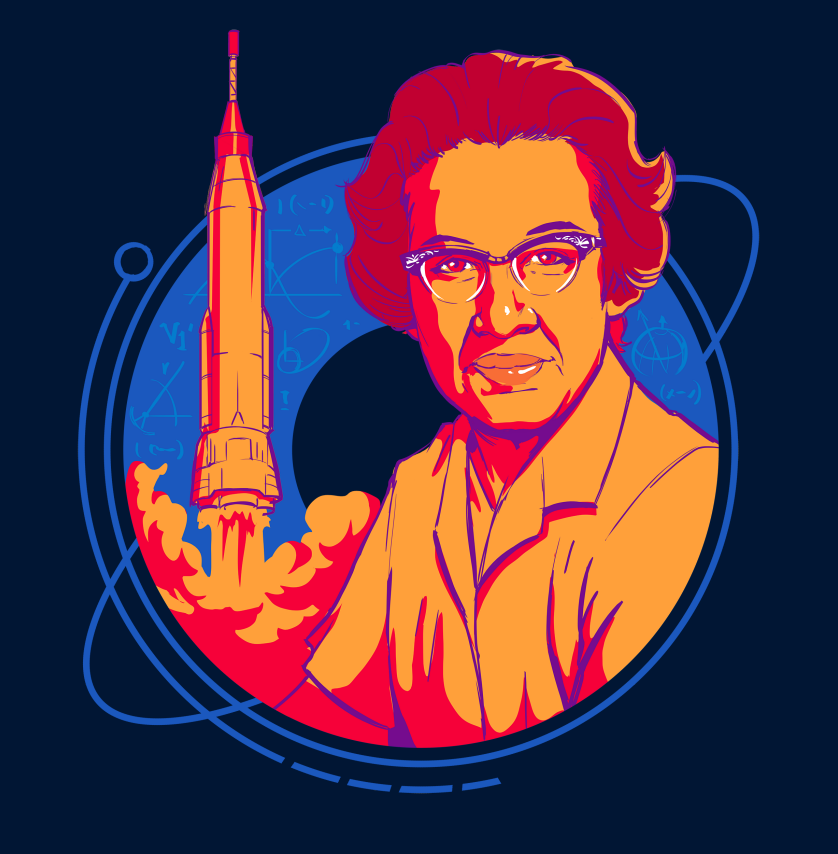 An important part of the hackathon is to recognize and celebrate an instrumental pioneer in science and technology. In our last hackathon, we commemorated Alan Turing for his influential work in computer science. This time, we proudly honored mathematician Katherine Johnson, whose contributions were critical to the success of U.S. crewed space flights at NASA. We prominently featured her image in our hackathon branding, including on the t-shirts that all participants received.
The shift from in-person to virtual
The company hackathon is always a highlight for everyone involved. This time, we had more participation than we've ever had before—56 hackathon teams and over 200 individual participants, including 18 summer interns! With so much participation from our Technology Organization, we wanted to ensure this hackathon was as engaging as possible. When corporate hackathons first began at Okta in 2014, they've always been in-person events, but with COVID-19 and remote work, this hackathon quickly became virtual. Similar to our annual user conference, Oktane20, we had to completely rethink the format and delivery of the now virtual hackathon. The biggest question we had to answer was how do we create an event with maximum engagement in a remote setting?
Eventually, it came down to implementing a few key elements specific to this online format:
We shipped Katherine Johnson t-shirts directly to each participant's home, then coordinated teams wearing them throughout the hackathon.
We held a video address from Hector Aguilar, our President of Technology, for teams to watch on opening day.
The emcee for our demo viewing watch party led the audience through engaging activities during breaks with the intention of keeping people physically moving and mentally energized.
We scheduled performers throughout the watch party, including magicians, aerialists, DJs, and a piano concert by award-winning pianist and composer, Samer Fanek, who is also an Okta engineer!
We found these changes increased engagement not only when teams were hacking away at their own projects, but also when they were viewing one another's projects at the watch party.
A virtual hackathon in action
During the event, teams recorded a short demo video of their hack projects, which were grouped into three prize categories:
Something Customers Love: hacks related to product capabilities
Something Technology Teams Love: hacks related to our service infrastructure
Something Okta Employees Love: hacks related to employee enablement
On the following day, we invited the entire Technology Organization to view the demos at a virtual watch party. Each category had a judging panel of technology experts to determine the first place, second place, and most creative awards. We also had a People's Choice award selected by viewers and determined by the demo video with the most "likes."
After the watch party, the winners were announced in a high energy virtual happy hour, complete with drum roll and applause sound effects. We even had a surprise guest appearance by our CEO and Co-Founder, Todd McKinnon! The winning hack ideas included creating apps on demand, automating the creation of release notes, automating the assignment of business applications for new hires, and more. Check out the pictures of the winning teams below: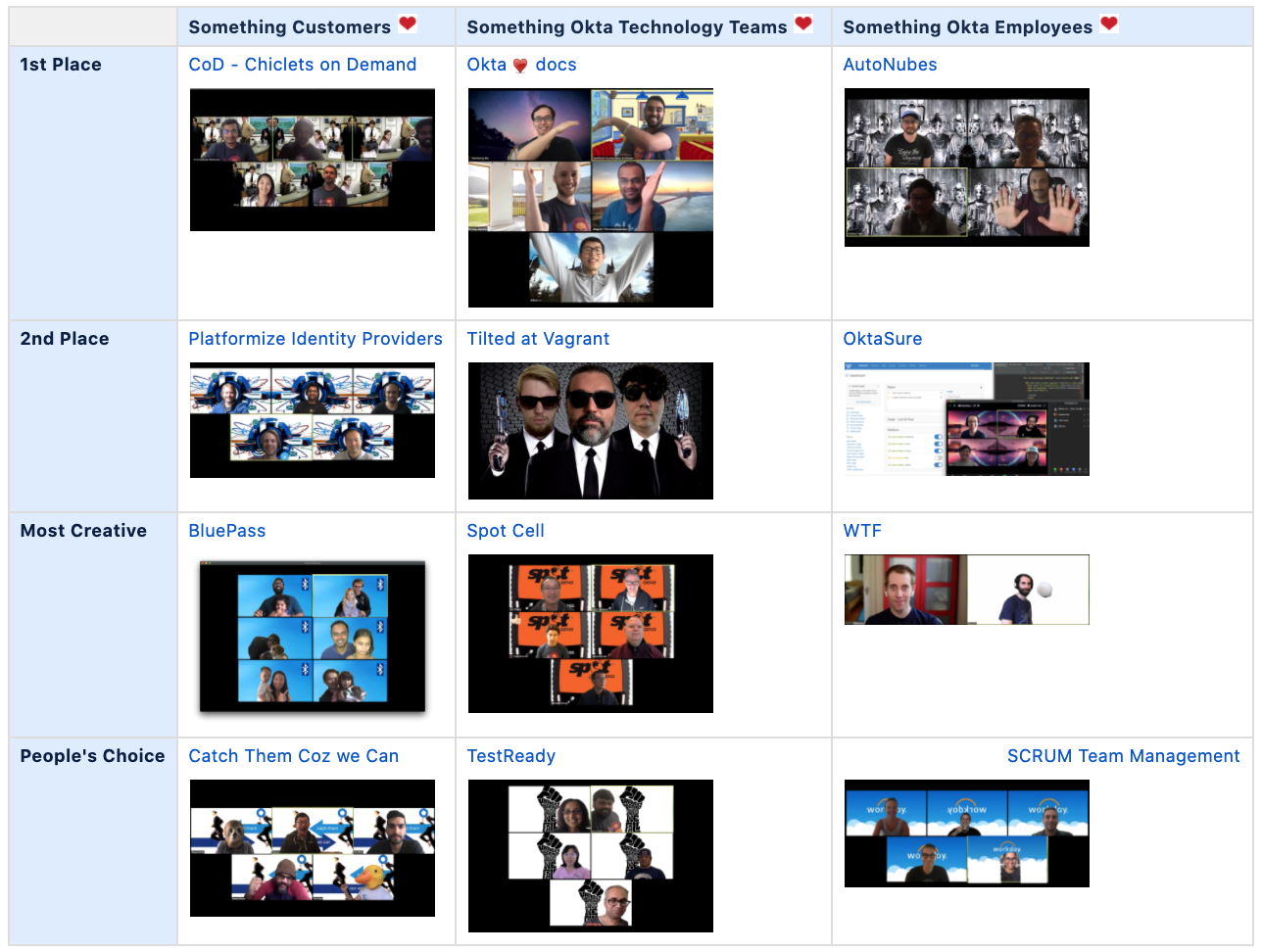 Overall, the hackathon was a fun and engaging experience for everyone involved, despite the sudden shift to virtual. We ensured the focus was on being creative and innovative with the hack projects and the event format, and we're already looking forward to the next one!
Think you have what it takes to become our next hackathon champion? Excited by our culture of innovation? We're hiring! Check out our open roles, or hear from our team: