Okta's State of Inclusion Report
From day one, Okta has been committed to building a culture of inclusion and belonging. We know that fostering a diverse workforce, customer base, and partner network is not only the right thing to do, but also the only way we will succeed. Identity is at the core of Okta's mission, and it extends well beyond our products. We value what makes every individual unique, and we want everyone to feel comfortable being their authentic self at work. 
That's why, today, we're launching our first State of Inclusion report. We decided to document and share our work in this space because we care deeply about diversity, inclusion, and belonging (DIB) both internally, within our workforce, and externally, in our community. The report outlines our current workforce demographics, ongoing DIB initiatives, and our plans for building a diverse workforce that fosters a sense of belonging and opportunity. By sharing our State of Inclusion, we are establishing a benchmark to track our progress in the coming years. 
Okta's Commitment to DIB
We have been building and honing our DIB initiatives across the entire organization over the past several years. For example, employees have developed several employee resource groups (ERGs), including Women@Okta, POC@Okta, and Pride@Okta; and more recently, we launched an Inclusive Language Project across the company. Our commitment to DIB extends to our wider community as well. This spring, for example, Okta made a $3 million, three-year commitment to racial justice and economic opportunity which included $2 million of personal donations from our co-founders Todd McKinnon and Frederic Kerrest, and an additional $1 million commitment from Okta for Good.
The events of 2020—from a global pandemic to nation-wide racial justice protests—have encouraged all of us to think more critically about DIB. While our report is not in reaction to current events, we've been encouraged by our employee base to meet the cultural moment. We wanted to share our progress publicly so we can add to the conversation in a productive way and outline how we can do better. This first State of Inclusion report will serve as a benchmark for all future reports, so we can maintain transparency around our DIB initiatives and begin documenting the progress of our long-term commitment to DIB year-over-year. 
Our 2020 Workforce Demographics
As of August 2020, here's what diversity across gender, race, and ethnicity looked like in our workforce and leadership teams: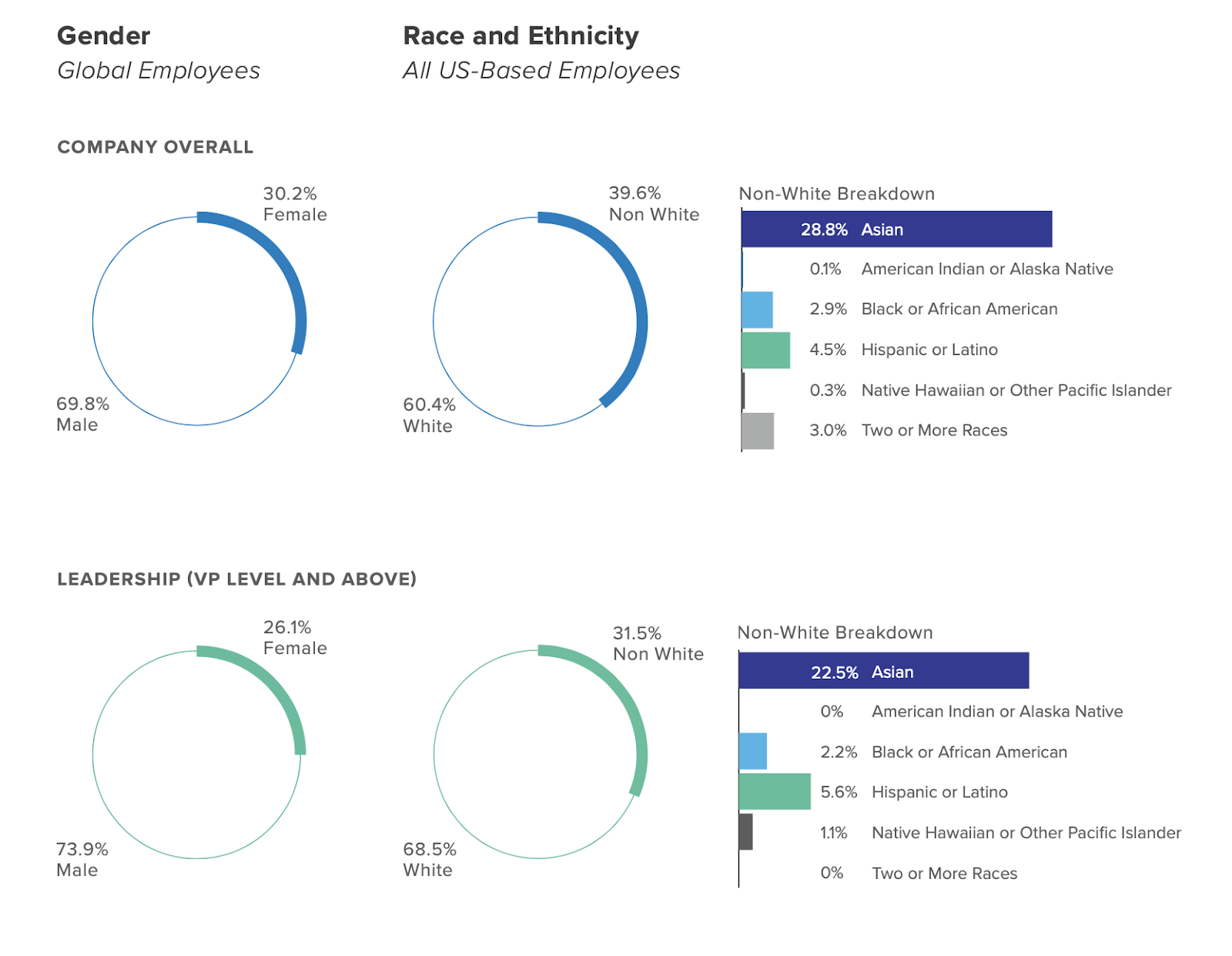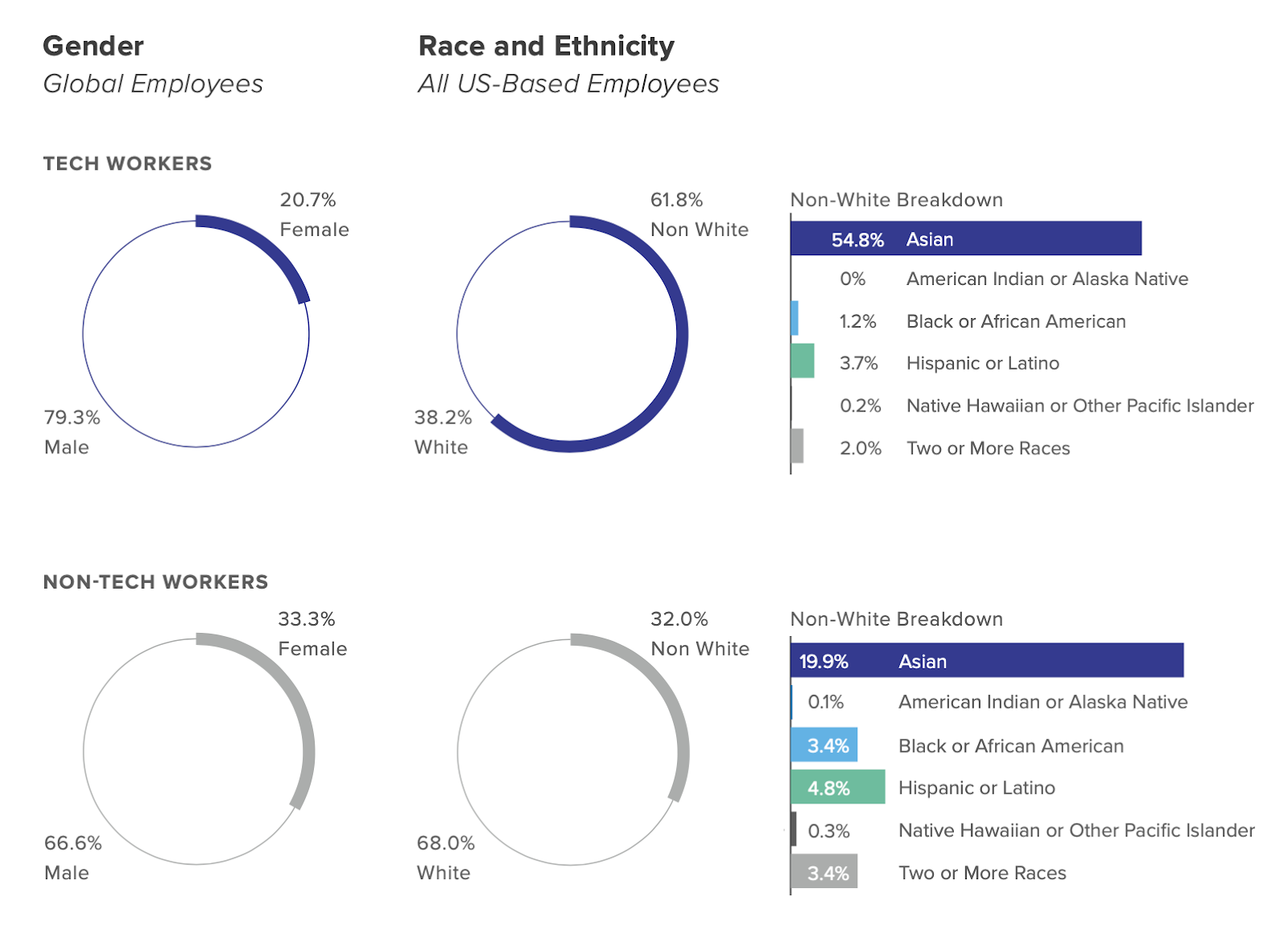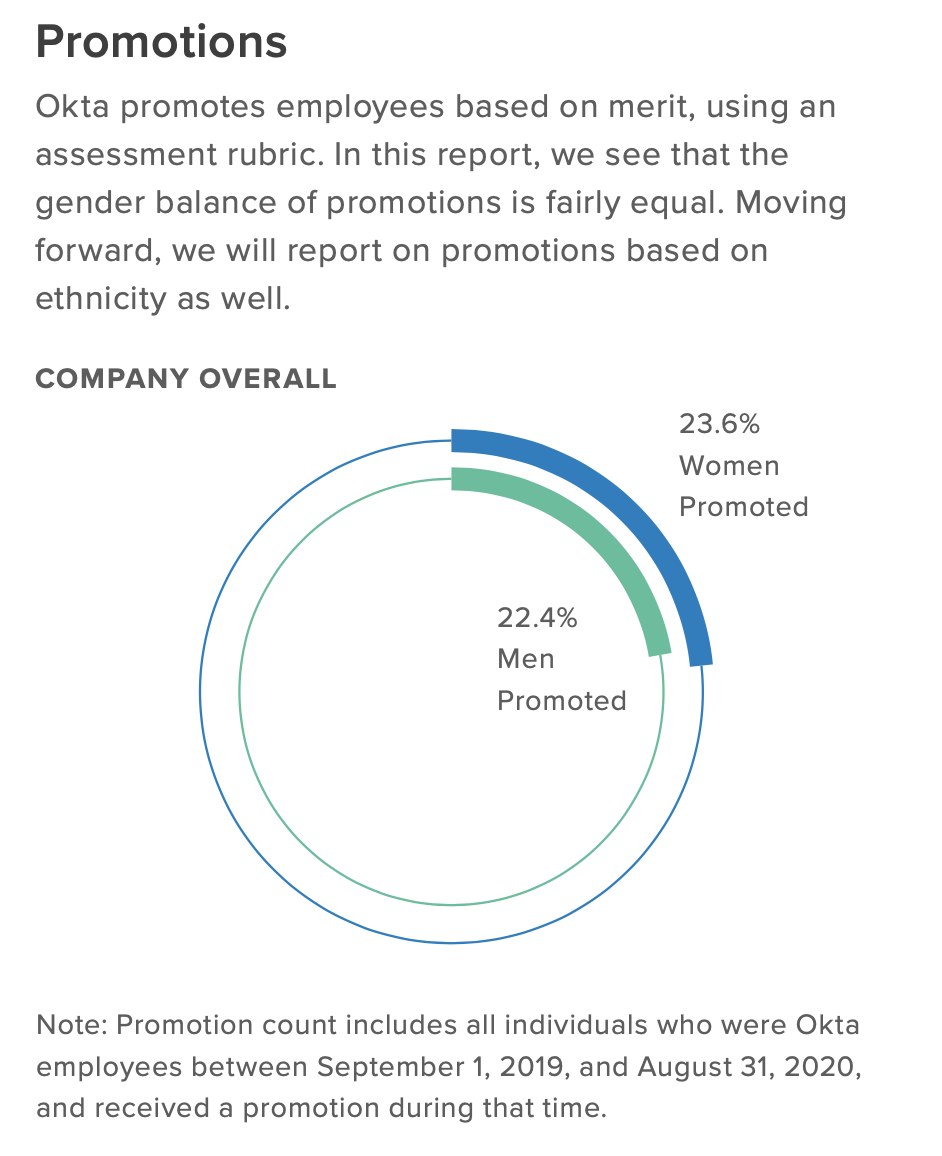 What's Next 
We recognize that we still have work to do to improve gender, race, and ethnic diversity across our organization. Moving forward, we have a number of initiatives planned to improve DIB across our workforce, in the workplace, and in our marketplace. 
Workforce
At Okta, we are committed to creating balanced teams. Our recruiting and hiring processes have been carefully developed to find and hire diverse talent. To continue building a diverse workforce, we'll keep partnering with diversity sourcing programs to find top talent from underrepresented groups. This will help us source top talent from underrepresented groups for current open roles and simultaneously build and nurture diverse talent communities for future positions. Throughout the recruiting process, we'll make sure we're always hiring for culture add, rather than culture fit. We also have invested in resources and tools to help surface and mitigate bias throughout our process.
Workplace
A diverse employee base is just one part of the equation. We're also committed to nurturing a culture of inclusion and belonging at Okta. We strive to ensure that our DIB efforts are informed by the needs of our employees and implemented in partnership with various teams. To do that, we will continue partnering closely with our ERG leaders and will be compensating the key members of each ERG for the important work they are doing in addition to their core responsibilities within Okta. 
In addition, we'll continue our Dynamic Work strategy to empower employees to work from wherever makes most sense to them. Through Dynamic Work, we'll continue providing equitable and inclusive benefits like gender-neutral parental leave and fertility support.
Marketplace
Through all of our DIB initiatives, we want to ensure we're making an impact on our wider community. We are proud of the internal and external partnerships we have built and excited about the work that lies ahead. We have a diverse customer base all over the world, and we will keep working hard to ensure our platform, products, and customer interactions respect and protect our diverse audiences around the globe. To do this, we'll leverage our Inclusive Language Project, which is a commitment to removing charged or exclusionary words and phrases from our product, code, and messaging. We'll also continue to improve product accessibility and look outside of our day-to-day work to identify and support founders and startup ecosystem partners whose ambitions we admire.
We have many more DIB initiatives planned, which you can read about in the full report here. Above all, our core values — love our customers, never stop innovating, be transparent, act with integrity, and empower our people — drive our DIB efforts. Moving forward, they will continue to guide our journey to building an even more inclusive and diverse culture. Over the next 12 months, our key areas of focus will be ensuring equal opportunity, nurturing a sense of inclusion and acceptance, and creating inclusion goals and accountability metrics. If you're interested in helping us drive this mission, check out our career page.