Give That Consistent Brand Experience With New Telephony Features

We're all familiar with SMS. If you've ever received a text message, you know what an easy form of communication it can be. That's why SMS is also considered a great option as a second form of identity verification, known as SMS OTP or one-time passcode. 
At Okta, we know that telephony is a critical part of the authentication experience for many of our customers–whether that's using SMS to authorize a password reset or account unlock, using voice for an additional MFA layer, or whatever use case your organization may have. 
Two key examples of using SMS are 
to authorize a password reset for retail customers: In a recent survey, 78% of people reported resetting a forgotten password within the last 90 days. In the retail industry, punishing a customer for forgetting a password—making them jump hoops to reset it—can have an impact on conversions for customers. Allowing customers the option to authorize a password reset via SMS gets them back on their journey with your brand much more quickly and happily. 
as an additional MFA layer for supplier portals: A secure, seamless end-user experience can also be a competitive advantage that fuels efficiency with suppliers. By using SMS as an additional layer of MFA, organizations can further secure their supplier portals by allowing suppliers an additional form of MFA they're probably familiar with. 
You need an effective out-of-the-box solution from Okta that gives you the flexibility to control the end-user telephony experience. So, today, we're excited to showcase some of our new and upcoming telephony features that provide you with exactly that. 
Use your own provider for telco via inline hook
While Okta provides out-of-the-box telephony functionality, in order to deliver SMS and voice messages, many of you need the ability to integrate Okta with an existing telecommunications provider. 
So, generally available (GA), the Use Your Own Provider for Telco via Inline Hook feature allows you to generate OTPs within Okta. Using your existing telecom provider, you can deliver MFA messages for enrollment/verification, password reset, and account unlock.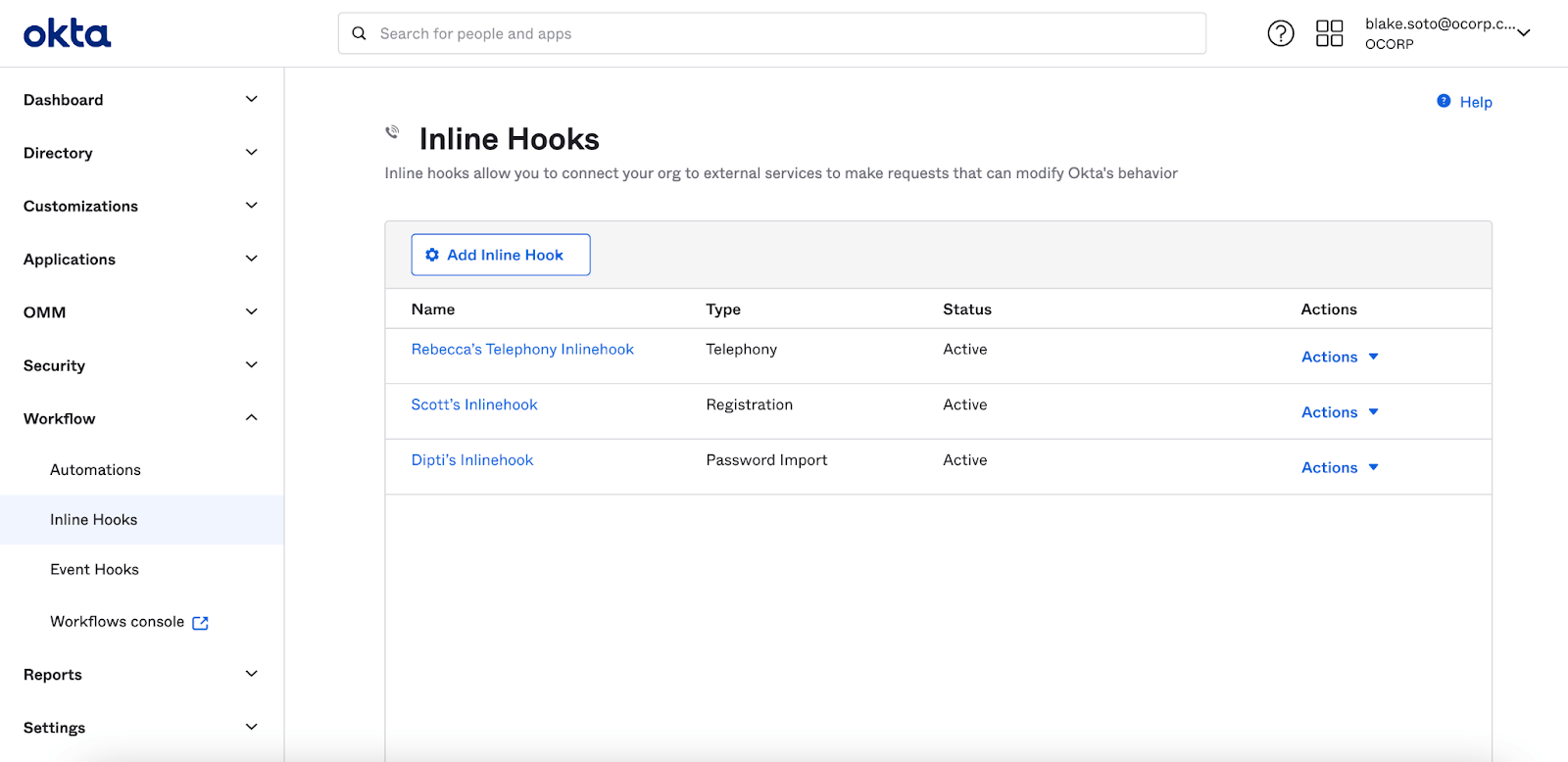 This functionality enables you to utilize your existing telephony solution within Okta. Whether it's invested time in your current solution, data residency goals, or simply the desire to maintain flexibility, there's no requirement to update your current telephony option. 
The use of your own provider via inline hook enables organizations to
Provide customers with a more consistent brand experience: The ability to manage things like senderIDs and shortcodes increases the span of brand control. 
Gain visibility into your telephony performance and usage: Gain additional visibility into deliverability issues, allowing for troubleshooting and responding to potential issues more quickly.
Increase controls for data residency purposes: A local telco provider can be used to achieve data residency goals. 
Maintain flexibility: Keep the solutions for which time and money have been invested.
What's next for telephony? 
Deliverability report 
For organizations using SMS and voice, it's critical that admins have a complete view of their solution, with the ability to monitor the usage of their SMS messages. To that end, coming in the second half of 2022 and available in EA (Early Access), enhanced deliverability reports provide those insights. Admins gain visibility into the status of triggered messages. 
Country-specific SMS templates
SMS laws and regulations are ever-evolving and vary by country. Our country-specific SMS templates help organizations comply with these country-specific laws and regulations by tailoring things like "unsubscribe" formats and company prefixes. This feature is currently in development and is slated to be available in the second half of 2022.
One thing to note is that SMS was not designed with security in mind. And when you're balancing security with end-user experience, the transport of data is a seriously important consideration. With this in mind, SMS may not be your best choice. 
Transparent, pay-as-you-go pricing for Okta SMS and voice
Finally, for organizations using the Okta out-of-the-box SMS and voice capabilities, we're launching a new, optimized, pay-as-you-go pricing model for SMS and voice. This means companies will only pay for what they use each month. There's no need to pre-purchase a defined number of SMS messages or voice minutes upfront. This new pricing will be available for customers later this year. 
Pricing is also more transparent, too. Since it's based on the country code of the recipient, customers will have full visibility into the rates, upfront. And in the spirit of transparency, we've also enhanced our built-in reporting capabilities so that organizations can easily monitor their SMS and voice usage. 
Ready to start customizing your telephony experience? Dive into our Telephony documentation to learn how to configure telephony in your org, setup the Use Your Own Provider Inline Hook feature, and mitigate telephony-based fraud.