Single Sign-On
Okta provides a comprehensive but flexible Single Sign-On solution that spans all of your web applications; whether they are in the cloud or behind the firewall.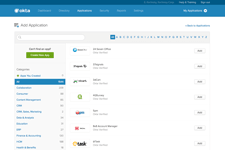 Single sign-on catalog
A Network of Pre-Integrated Applications
Whether your web applications are in the cloud or behind the firewall, Okta supports the broadest and deepest set of integration options to enable single sign-on. You don't have to worry about how your vendor supports these features or do any integration work yourself, just select the app, configure your options, and deploy.
Including thousands of applications, our Okta Application Network is an on-demand service where integrations are continuously validated, always up to date, and constantly growing both in number and capability. Find all your applications now.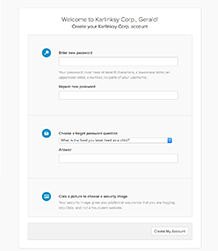 Single sign-on – turnkey user activation
Turnkey User Activation
Rolling out Okta is as easy as creating new users, assigning them applications, and hitting activate. You can automatically import users from an existing user store such as Active Directory or other applications such as Salesforce.com or Google Apps. Once activated, every user gets a welcome email complete with an overview video that guides them through setup and use. It's just that easy.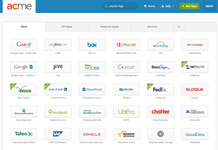 Flexible single sign-on access options
Flexible Access Options
Okta offers you and your end users a flexible set of options for leveraging the single sign-on capability.
A complete, turnkey solution is offered that includes an end user portal with a customized set of applications for every end user. Once logged into Okta, users gain access to every web application they need, be it in the cloud or behind the firewall. Their customizable homepage has a clean simple layout with clear icons that enable one click access to those applications. No more writing passwords on sticky notes or storing them in excel spreadsheets.
Have an employee portal that you want Okta to be integrated with? We support that too. You can use Okta's APIs to embed our entire homepage, or just individual applications directly into your portal.
Okta also installs a custom set of "My Application" bookmarks in every browser so that users can get access to any web application by just clicking on the relevant bookmark.
Access to our service is supported from all popular browsers including Internet Explorer, Firefox, Chrome and Safari. Users can easily access Okta via the web browsers from devices such as iPads and iPhones. For popular applications such as email Okta also supports password synchronization to facilitate the direct access to these services via mobile devices.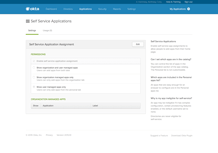 Single sign on self-service administration
Self Service Administration
Okta includes several self service capabilities in each user's home page including password management for Okta and their associated applications, visual layout customization, and new application provisioning.
If they forget their Okta password, the main login page supports password reset with just one click. Once logged in, every user can manage account information (username, email, password, etc.) and customize the layout of their homepage.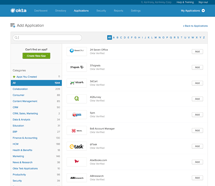 Single sign on self-service add application
Application credentials for those applications that are not managed centrally are editable, and users can easily add to or request more applications for their homepage.
Administrators can set policies to determine which applications are available for self service provisioning: personal, enterprise or both. To ensure end user privacy, personal applications, if added, are reported on only in the aggregate to IT. Usage reporting provides insight into the most popular self-provisioned applications so IT can identify applications that should be centrally managed and supported.
Seamless Active Directory Integration
Okta's comprehensive Active Directory Integration means that users can log into Okta using their Active Directory credentials. Or if you want to eliminate the Okta login completely, Okta's Desktop Single Sign-On capability will automatically authenticate users once they log onto the Windows network in the morning, from a PC or a Mac, truly reducing access to just one password.