Okta's 2021 Year in Review: Empowering Our People
2021 began with a sense of collective optimism. 2020 showed us how resourceful and resilient we could be as individuals, and as a community. We knew the world wouldn't instantly return to normal, but were confident that we could stay positive and safe, moving forward.
That optimism paid off. Despite the world's challenges we worked to help our community get through the tough times and celebrate our wins. Our method was to make investments in global programs devoted to the health, wellness, happiness, and development of our people. As we look back on the past year, our investments in empowerment are what truly stand out. I'm honored to step through and celebrate some of the highlights.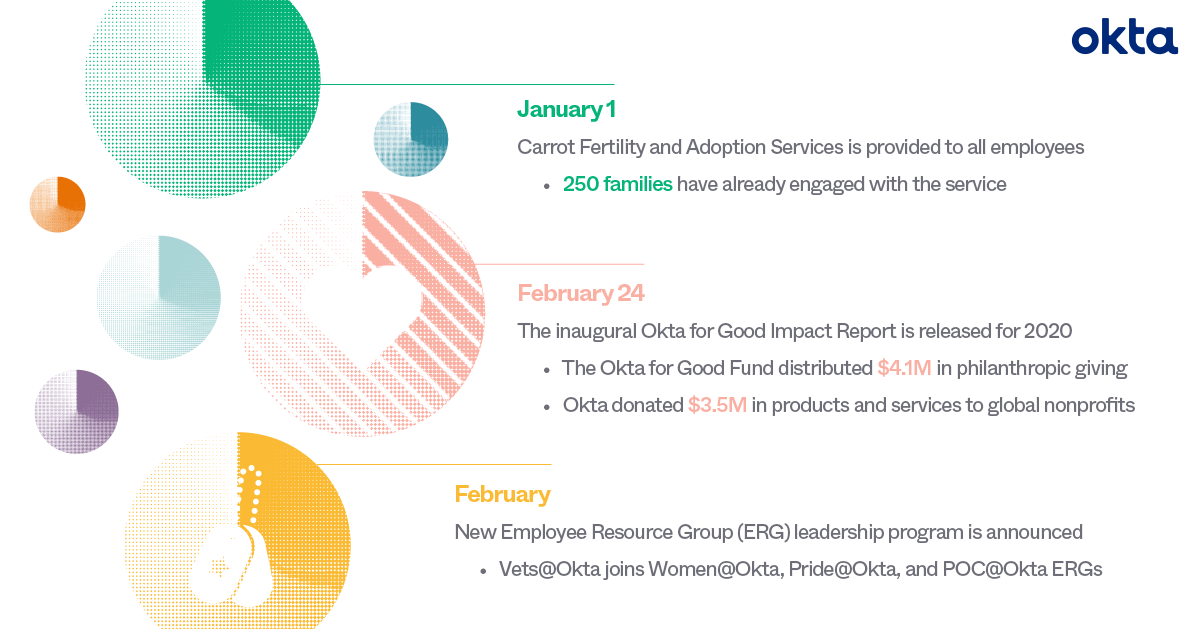 Caring for the wellness, diversity, and abundance of our community
As soon as the year started, Okta announced the launch of a new partnership with Carrot, an equal access provider of fertility and family planning benefits. We continued to invest in Modern Health, a virtual, on-demand employee assistance program (EAP) provider that delivers coaching and therapy via text, email, and video, along with a suite of digital tools.
To further support their mental and spiritual wellness, employees have access to Okta's premium subscription of Headspace.
Following 2020's successful Okta for Good Holiday Giving Campaign, we published our first annual Okta for Good Impact Report. In this year's campaign, more than 3,300 employee donors supported over 2,000 causes.
During Tech Pathways Week, more than 450 Oktanauts participated in 19 virtual events hosted around the world, supporting 13 nonprofit organizations.
Okta announced a new ERG leadership program, with quarterly bonuses for co-chairs and committee heads. We also welcomed our newest ERG members, [email protected]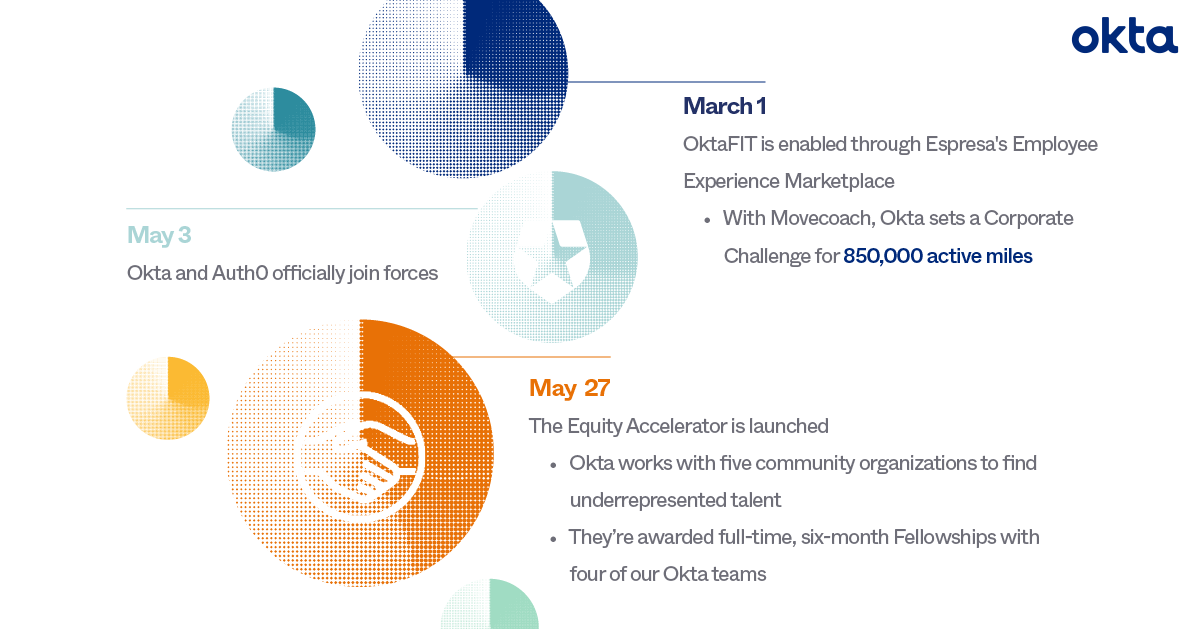 Staying active, strong, and growing in diversity—together
In our second year of Zooming from home, we recognize that activity is key to wellness. In March we used our corporate wellness program OktaFIT, to set a goal for everyone. Through the Movecoach app, we challenged employees to reach 850,000 active miles together through exercise, yoga, and personalized guided workouts.
May marked a pivotal milestone when Okta partnered with Auth0—and with the two companies' shared commitment to diversity, inclusion, and belonging, we've truly connected our people as well as our technology. We are excited to see how they evolve, grow, and innovate together. 
Later that month, we introduced Okta's Equity Accelerator. Partnering with community organizations to identify high-potential candidates, this Equity Accelerator is a six-month, full-time, paid workforce development program. It's designed to expand economic opportunity for people from historically excluded and under-represented talent groups, with an emphasis on Black, Indigenous, People of Color (BIPOC) applicants.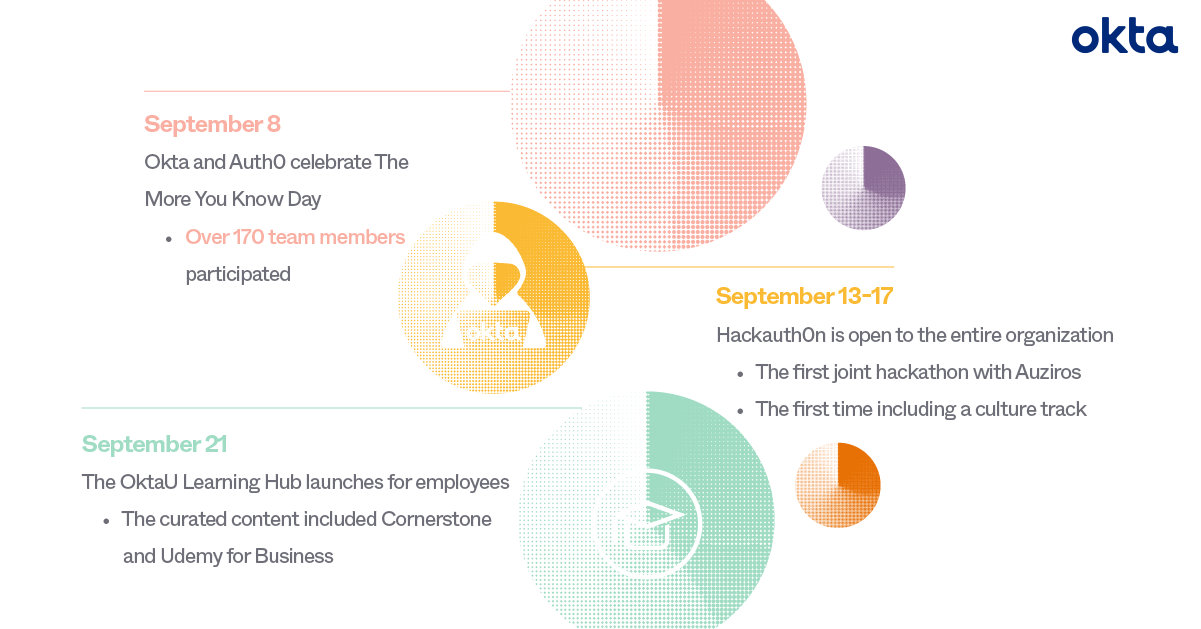 Learning and leading through collaboration
Enabling flexibility for employees is essential at Okta—especially in summer! To support Dynamic Work, we rolled out our first-ever workplace experience app, Atmosphere.
In September we selected our four choices as Fellows in Okta's Equity Accelerator pilot program. Also that month, Okta joined in an Auth0 tradition: The More You Know (TMYK) Day, where over 170 participants across Auth0 and Okta completed a series of challenges to build understanding, uncover new perspectives, and share stories.
September also featured the Okta Hackauth0n, the first joint hackathon with Auziros, which included a new culture track we're calling Power to the People.
Okta also achieved our first public climate commitment to 100% renewable electricity annually, including energy consumption by remote employees.
Building on our commitment to help Okta become a high-impact learning organization, we launched the OktaU Learning Hub, providing Oktanauts with learning opportunities that include Cornerstone and Udemy for Business.
Providing some well-deserved R&R 
In autumn, leadership recognized the need for a pause, announcing that employees would receive extra time off before the end of the year to rest, reflect, and recharge.
Benefits ahead in 2022: 
Grayce, a caregiving service for elderly, ill, and vulnerable family members, will be offered to all employees at no cost.
Okta will match 401k contributions.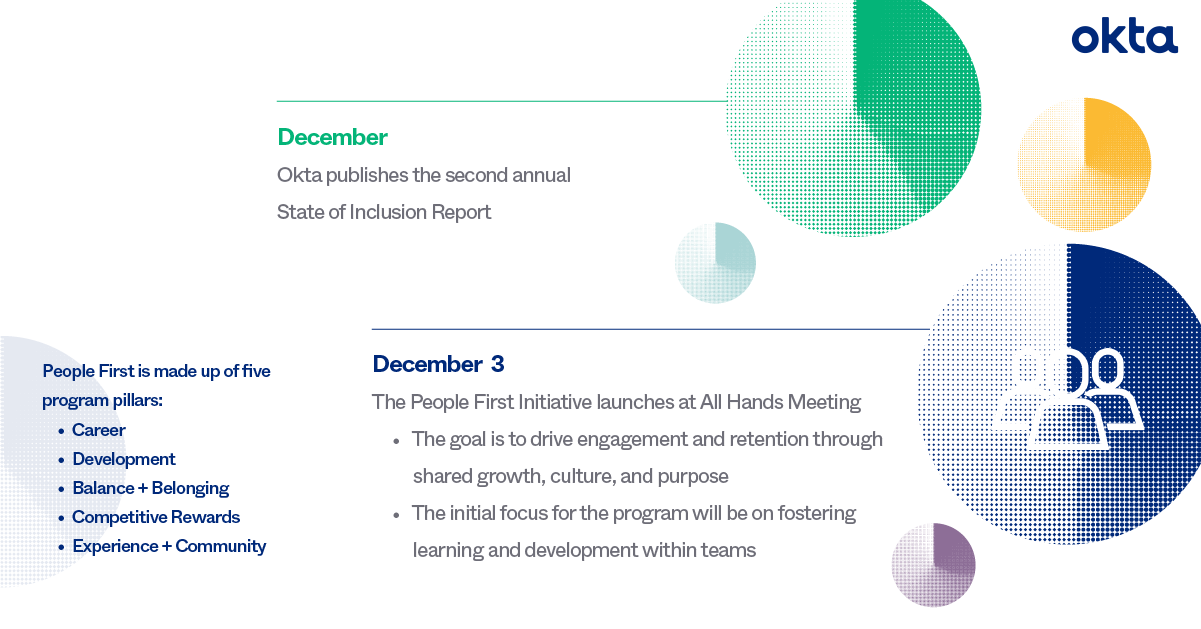 Beginning a new year, with promise and purpose 
The year is ending on some high notes!
Okta's second annual State of Inclusion Report was released on December 17th, offering a transparent look at Okta's commitment to diversity, inclusion and belonging.
Okta officially launched the People First Initiative, a multi-year, cross-functional commitment to make Okta the best possible place for Oktanauts to learn, contribute, and feel a shared sense of ownership and purpose.
So, just as 2021 kicked off with high hopes and bold plans, so does 2022. Our investment in our people and our promise goes on. Okta is focused on the future of identity, and that includes all the diverse, inspiring identities of our communities and our customers. We wish the whole Okta team a revitalizing and replenishing holiday season.