Okta Integration Network
Deep, pre-built integrations to securely connect everything.
Workday
Overview
Workday Human Capital Management is built as a single system with a single source of data, single security model, and single user experience. Workday offers organizations a cloud-based system that evolves to meet changing business needs today and into the future. The user-friendly, global system also ensures that customers are always on the latest version with up-to-date capabilities, whether they're using Workday on a browser or mobile device. Workday HCM is part of a single system with other Workday products including Workday Financial Management, Workday Payroll (for the U.S., Canada, France, and the UK), Workday Recruiting, Workday Learning, Workday Planning, and more.
Key product areas:
Human Resource Management
Organization Management
Business Process Management
Reporting and Analytics
Employee and Manager Self-Service
Absence Management
Benefits Administration
ACA Management
Compensation Management
Performance and Goal Management
Talent Management
Survey Framework
Contingent Labor Management
The Challenge
An HR Information System (HRIS) is typically the system of record for employees, but needs to share data with IT in order to create user accounts, assign applications, and deactivate users.As HR systems, directories and apps move to the cloud, HR and IT have to find more efficient and less risky ways to communicate.
Inefficient processes: sending data via email, attachments, or file extracts is time-consuming and error prone
Security gaps: The average company takes two days to deprovision users, putting company data at risk
Employee downtime: Employees have to file helpdesk tickets and wait to get assigned apps and update permissions
The Solution
Okta's pre-built integration unifies HR and IT, using employee data and updates in Workday to inform the user lifecycle across IT systems, including Active Directory, SaaS and on-premises applications.
Automate user provisioning: Use HR triggers such as New Hires and user attributes like title or department to automatically assign IT-managed applications.
Improve data freshness and fidelity: Ensure employee attributes stay up to date everywhere with bi-directional sync - get key IT data, like email and phone, back into HR systems.
Decrease security risks when employees leave: Close security loopholes upon employee departure with real-time deprovisioning and access suspension based on HR triggers.
Make employees productive from day one: Provision new hires before start date, update permissions in real-time as roles change, and enable them to maintain their own profiles.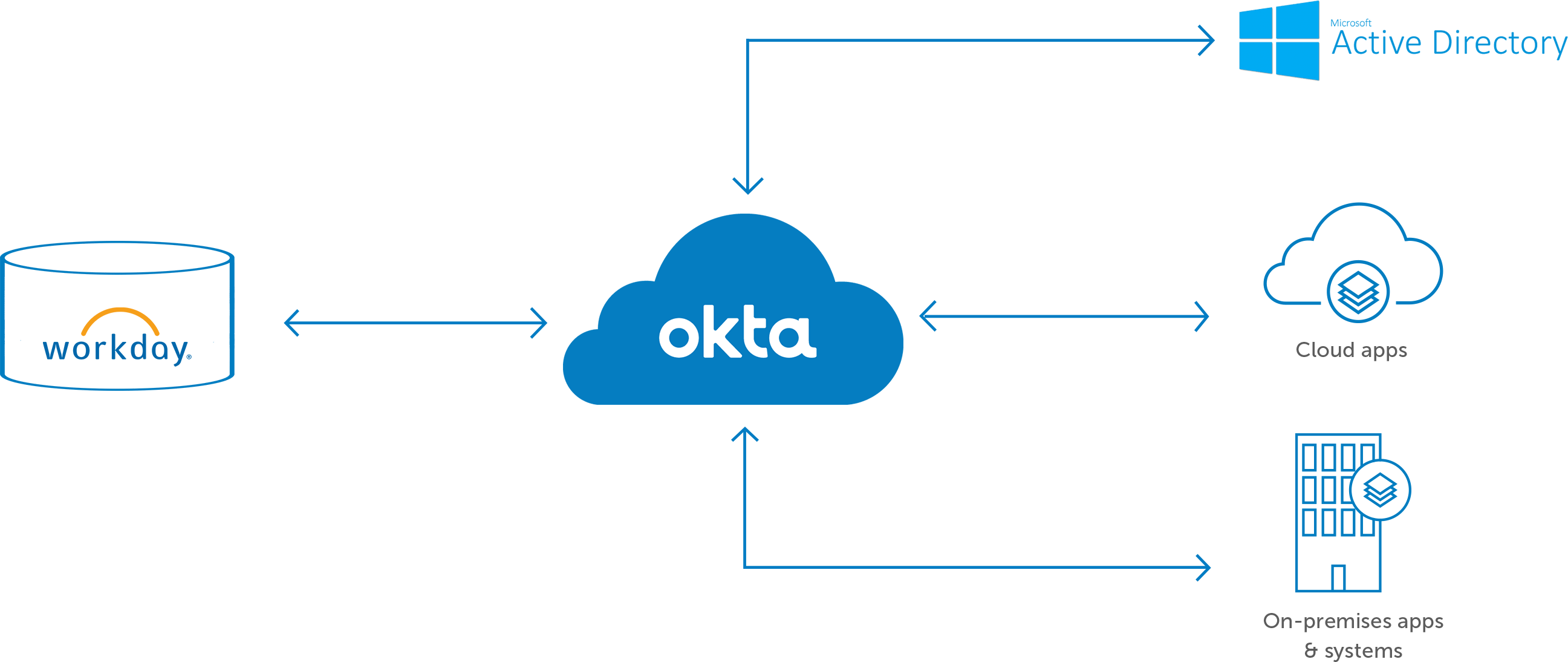 Case Study
"Now that we provision from Workday into Okta, user creation is automatic."
– Dan Bowden, Infrastructure Engineer, Xero
95%
of onboarding and offboarding processes automated