New report: What customers really want in online experiences
The digital space has never been noisier. Brands, media outlets, publishers, and influencers — they're all vying for a share of consumers' attention. The competition for eyeballs, along with the dollars they bring, is fierce.
What's more, consumers are increasingly protective of their personal information and aware of digital privacy rights. Regulations are also evolving to become more stringent, and regulators are stepping up their enforcement game.
Marketing and digital leaders must meet the moment by strategically balancing convenience, security, and privacy so they can deliver the highly personalized experiences that consumers crave without running afoul of regulators or individuals' desire for privacy.
Okta's 2023 Customer Identity Trends Report contains a wealth of information that can help inform your digital strategy. We partnered with global research firm Statista to survey more than 20,000 consumers in 14 countries across North America, Europe, Asia, and Australia. Their responses reveal how they're thinking about convenience, security, and privacy — and the implications for brands. 
Too many accounts, too little time.
Today's consumers juggle dozens of accounts for apps and websites, often spinning up new ones and abandoning others on a monthly basis. This makes maintaining relevance an ongoing challenge for brands. 
Across all the regions surveyed, consumers maintained a similar number of accounts.
75% of consumers have 10 or more active accounts

35% have 20 active accounts or more — led by Europe, with 39%


 
Younger respondents report creating new accounts at much higher rates than those in older cohorts. For example, the 18-to-29 group opened more than four new accounts, on average, in the previous three months — double that reported by the 60+ group. However, the average number of accounts maintained remains largely steady across age groups, suggesting high levels of account churn for younger consumers; for each new account that's created, these consumers are deleting or abandoning an old one.
Holding on to large numbers of inactive accounts creates security risks, especially if a consumer reuses passwords. A threat actor that compromises an inactive account may end up with the proverbial "keys to the kingdom" — credentials that allow them to access other resources. 
Keeping track of digital footprints.
Among consumers, there's a growing understanding that online activities leave a data trail. What's more, there's greater interest in managing that digital footprint. A majority (approximately 71%) of survey participants said that they're aware of their digital footprint, and within that group, 62% of respondents are actively taking steps to mitigate the size of that footprint. 
This finding should serve as a reminder to digital and marketing leaders: Brands that want to win the long-term loyalty of their customers should be transparent about what data they're collecting and how they're using it.
Additionally, providing customers with tools that empower them to manage their own digital profiles makes it easy for them to share the information they want and exercise control over their data trail. 
Passwords belong in the past.
Friction has long been the enemy of conversion, and that remains true for today's consumers. Nearly 60% of survey participants said they'd be more likely to spend money if offered a simple, secure, and frictionless login experience. 
This is especially true for younger consumers, who are about a third more likely than older cohorts to spend money when offered a great login experience. As this generation comes of age and gains buying power, it will be increasingly important to deliver the seamless and streamlined digital experiences they prefer. 
Survey participants also report that they experience a great deal of frustration when it comes to managing their passwords. 
33% say that they feel frustrated when they have to create passwords meeting certain requirements

63% say that at least once a month they're unable to log in to an account because they forgot their username or password

24% run into this problem at least once a week
Naturally, Identity flows like account creation, sign-in, and obtaining consent are key parts of the customer journey. From this perspective, it's clear that friction here can easily result in cart abandonment or even account abandonment. The cost of login friction can be as high as the lifetime value of every frustrated customer. 
Brands that adopt modern Customer Identity solutions — especially those supporting passwordless authentication — can expect to see less churn, which translates into a boost to the bottom line.
Control wins out over convenience. 
Consumers in every region want control over what data they share and how it's used. This was the case across all industries and age cohorts. In fact, more than 75% of respondents across all age groups reported that it was important to them to be able to control their data by changing privacy settings, limiting information-sharing, or taking similar measures. 
When asked to choose between convenience and control, most participants would choose control, especially when dealing with financial services, healthcare, and public sector organizations.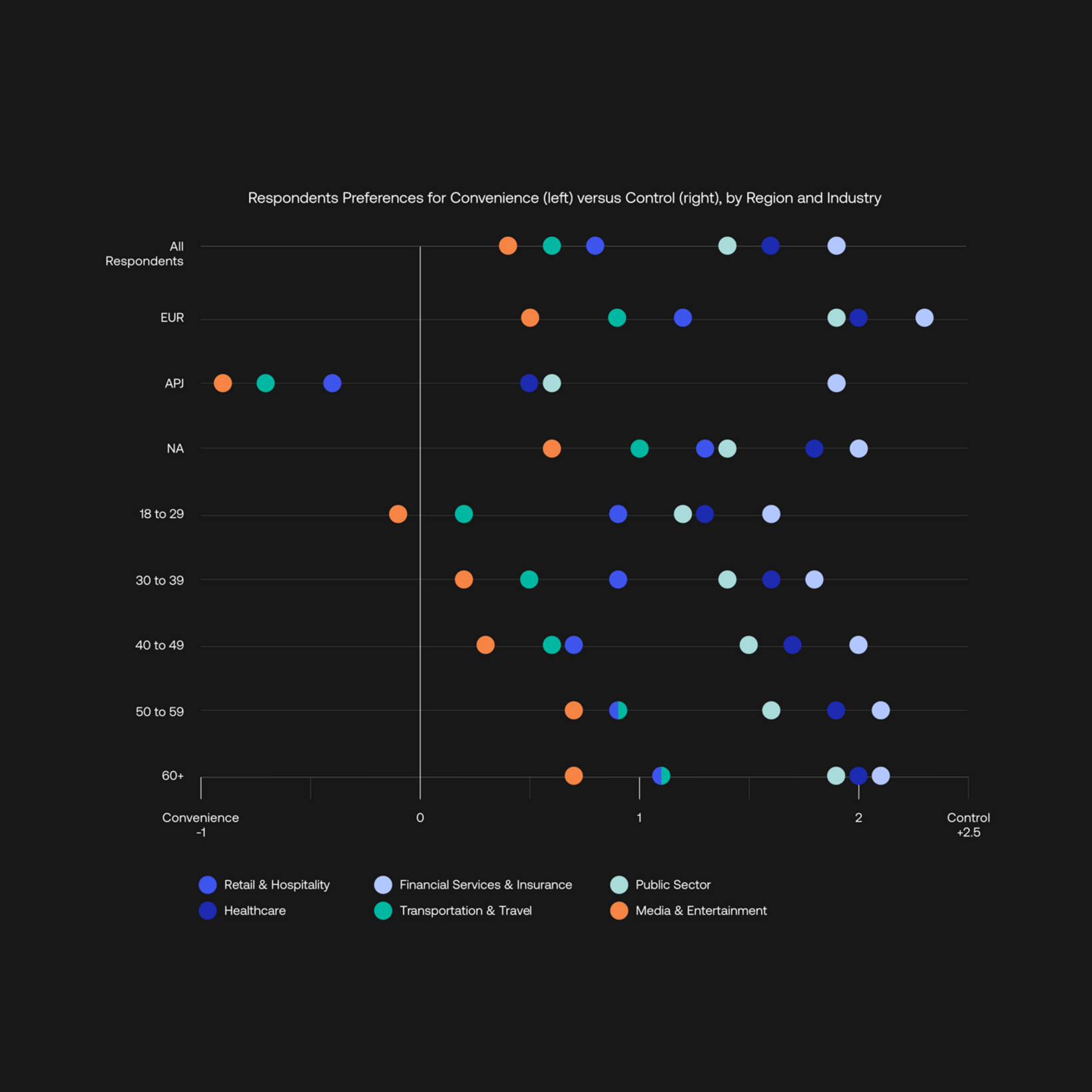 Consumers are also increasingly aware of disparities in how companies handle their personal information: 75% of respondents recognize that different companies have different security measures in place, with some offering stronger data protection than others. This growing awareness makes it increasingly important for companies to take their customers' digital privacy seriously. 
Passwords prove hard to shake.
While passwords are inconvenient, they're also familiar. In this case, familiarity breeds acceptance, and consumers ranked the traditional username-and-password combination highest when asked which authentication methods they considered secure and convenient (they were free to choose multiple options). 
But the data also suggests that some consumers don't find passwords particularly secure. This is especially true for transactions in Financial Services & Insurance. For these, respondents preferred multi-factor authentication (MFA), followed by biometric authentication, both methods that tend to offer a higher level of assurance and phishing resistance than usernames and passwords.  
The clock on passwords does seem to be ticking. Notably, the youngest cohort, those between 18 to 29 years old, has the highest approval for biometric authentication (42%), suggesting that brands would do well to start exploring this method now, especially as this group gains purchasing power. The youngest respondents (29%) also favored social login over the oldest cohort (8%) by a margin of 21 percentage points, indicating that the security measure stands to gain traction in the coming years.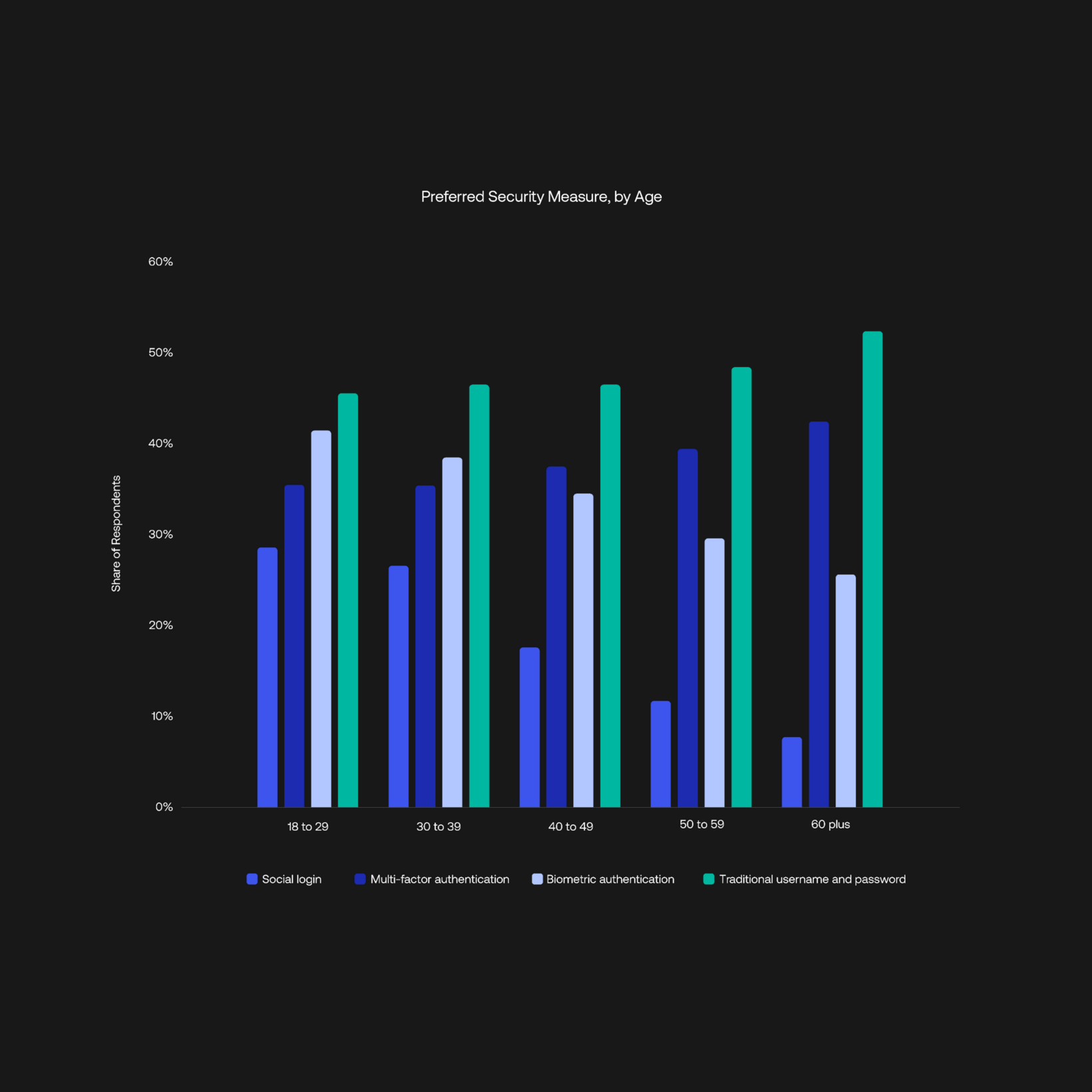 No more trade-offs.
Okta's 2023 Customer Identity Report reveals ever-greater sophistication among consumers regarding matters of digital privacy, security, and data protection. 
This doesn't mean that customers are eager to buy from companies that offer robust security at the expense of frictionless, personalized, and engaging experiences though. Instead, today's consumers want both. 
Brands that are able to overcome this privacy-personalization paradox with solutions that give their customers seamless experiences, control over what data they share, and robust security protections stand to win in 2023 and beyond.
To learn about more trends and insights, read the full Customer Identity report.
All stats shown are derived from the Statista survey and Okta's 2023 Customer Identity Trends Report unless otherwise stated.