Okta presents
The Accidental Icon
Lyn Slater always enjoyed fashion. The 64-year-old grandmother of one and tenured professor in Fordham University's Graduate School of Social Work recalls playing dress-up as a child and dutifully subverting her strict Catholic school's dress code. In those hallowed halls, the only accessories allowed were religious medals and rosary beads. Not to be deterred in her quest for sartorial greatness, Lyn expressed herself by displaying these religious medals "in different patterns, hang[ing] rosary beads from my belt."
The nuns, who also wore rosary beads, didn't disapprove, assuming the young woman simply admired their style.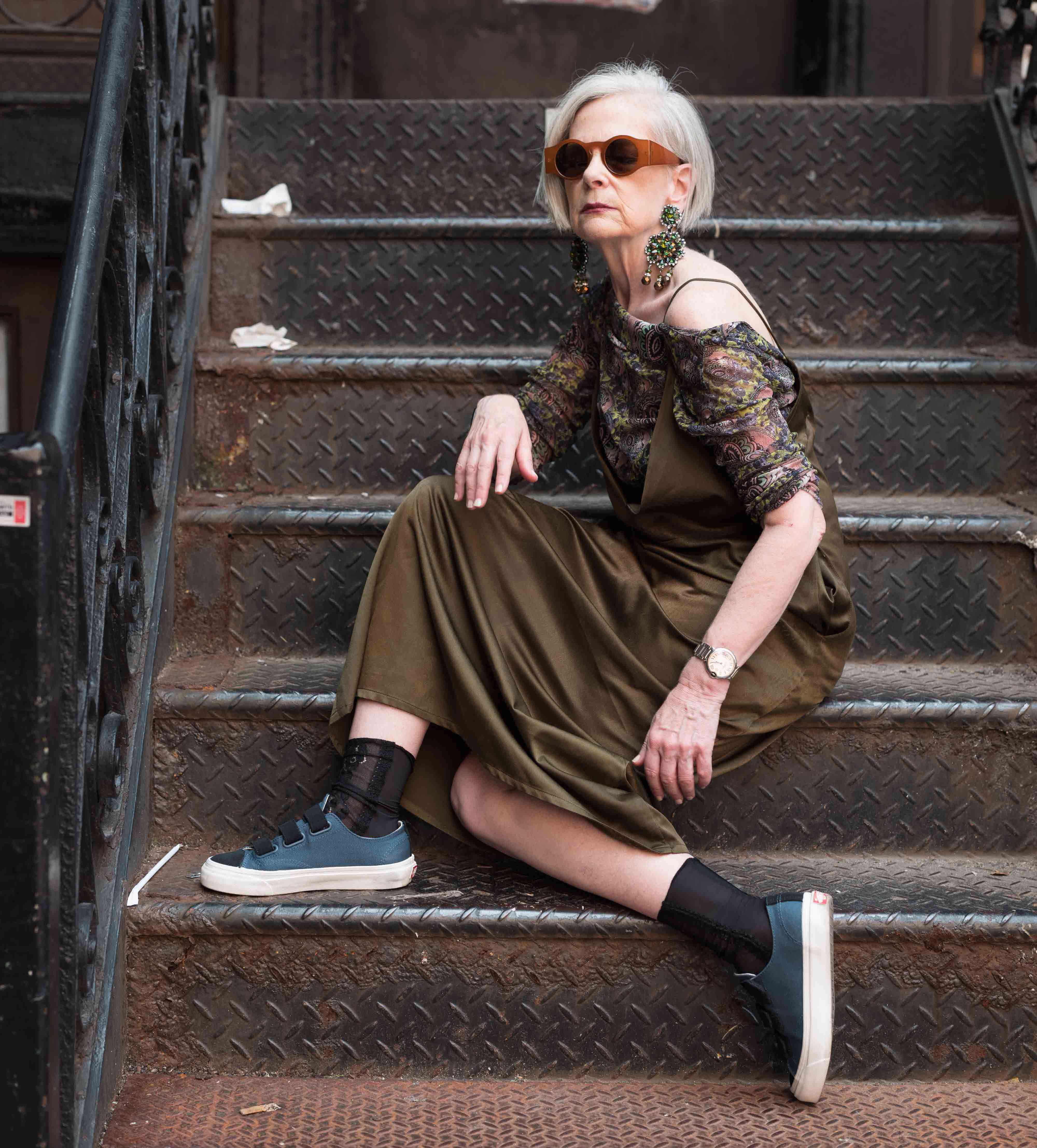 That was the end of her fashion career for almost five decades, until, as she waited outside Lincoln Center in New York for a friend, Lyn was mobbed by photographers attending New York Fashion Week. Clad in a vintage Yohji Yamamoto suit, limited-edition Chanel bag, and sleek sunglasses, Lyn was mistaken for a celebrity -- "an accidental icon!" her friend remarked when he arrived to find her at the center of a throng.
In that moment, a blog was born.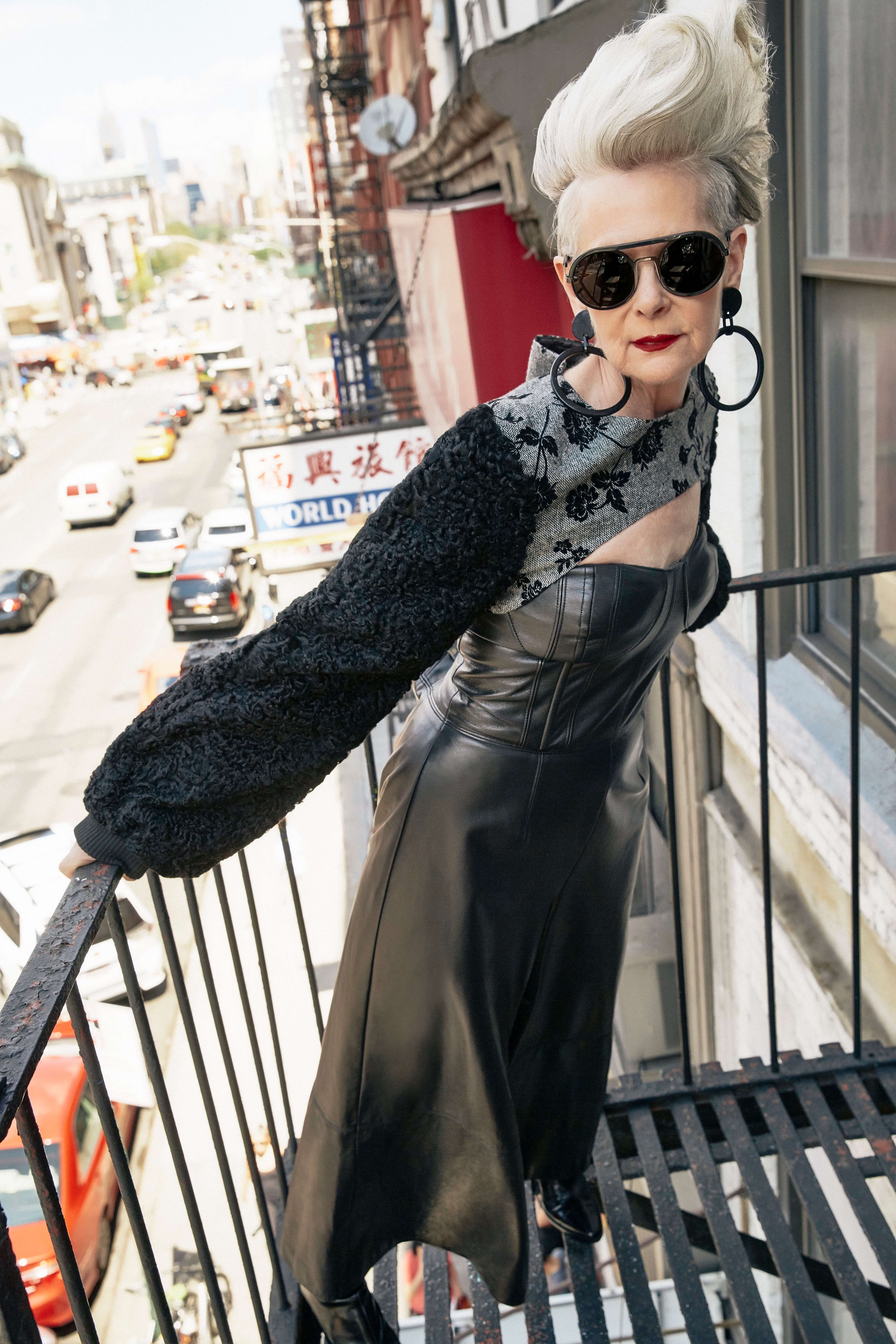 It had been a long time coming. Fashion has been central to Lyn's sense of self as far back as she can remember, to when she was a plucky four-year-old devouring synchronized swimming films starring Esther Williams. After the credits rolled, she could inevitably be found slipping on a bathing suit and spending the rest of the day as her favorite movie star.
"I've always had a relationship with garments that were very much part of me constructing identity," she says. "If you're not authentic, you're not anything."
For Lyn, that authenticity translates to a daring style she describes as "experimental and evolving," anchored by "beautifully constructed" black trousers, white shirts and her beloved statement earrings. As an academic, she defies stereotypes of how a professor should dress and fiercely challenges rules that try to dictate what women should wear, and in what ways, at different ages. For Lyn, the very question of age is an imposition on her identity rather than a fundamental part of it, as she says: "Age is not a variable."
It's a philosophy that has worked out beautifully for her. Since that fateful day outside Lincoln Center, Lyn has modeled for Valentino Eyewear, Uniqlo, and Mango — and earlier this year she signed to the prestigious Elite London model agency, joining a roster with boldfaced names like Kendall Jenner and Adriana Lima.
Now, after she clocks out at Fordham, Lyn writes the blog "Accidental Icon" and maintains an Instagram account with over 250,000 followers.
Her social media fans are mostly young women between 18 and 25 years old. The tag "#lifegoals" adorns many of the comments on her posts. Next, she's planning on designing her own capsule collection of sustainable fashion, demonstrating that in a world where age is so often the thing others fixate on as a foundation of identity, it can merely be an accessory, worn however we choose.
Okta is the foundation for secure connections between people and technology. By harnessing the power of the cloud, Okta allows people to access applications on any device at any time, while still enforcing strong security protections. Learn more
Tell us why we should feature your story.
All Fields Required