Okta presents
The Hijabi Marathoner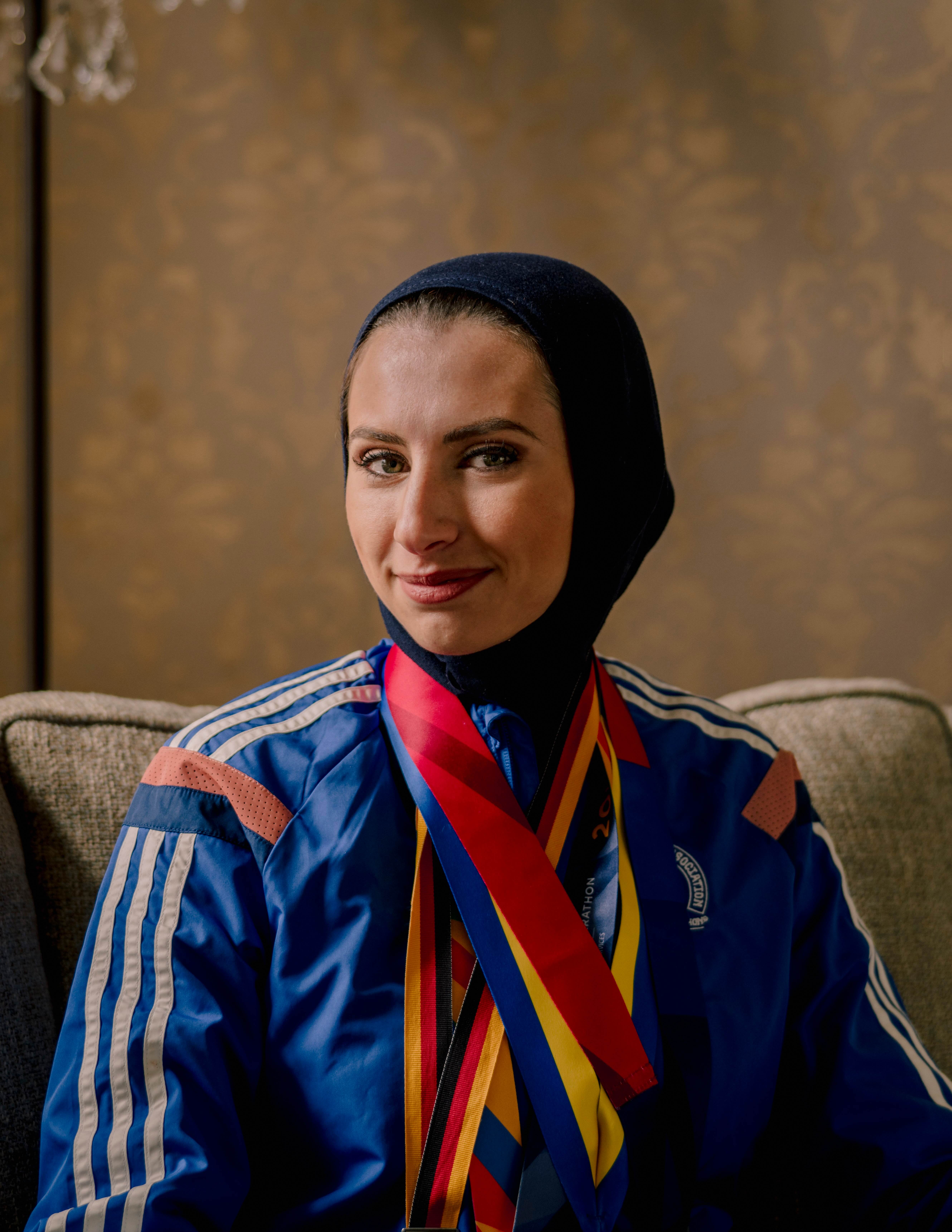 Rahaf Khatib was born in Damascus, Syria, emigrating as an infant to Dearborn, Michigan with her mother in 1983 because her father was in a Ph.D. program in Detroit. The young Syrian family fit into life in Dearborn with ease. "90 percent of my high school was Muslim," she remembers.
During Ramadan, the cafeteria was empty! I was very fortunate to have that kind of experience outside of the Middle East.
Rahaf got married in college to her sweetheart Mouhammed, and by the time she was 24, she was a stay-at-home mom with three children and a husband who worked long hours as a physician. She wanted to do something to "contribute to the world", but raising kids was a full-time job. But when she discovered that a local gym offered daycare, she felt ready to take on more:
I needed to have a bigger impact. I wondered how I could be a positive role model for the Muslim American community.
One day, her son's gym teacher suggested a 5K race and she "instantly loved the challenge." That led to a 10K and eventually nine marathons, two triathlons, and 15 half marathons. "When I crossed the finish line in that small local race in April 2012, my life changed," she says. "I became addicted to crossing finish lines."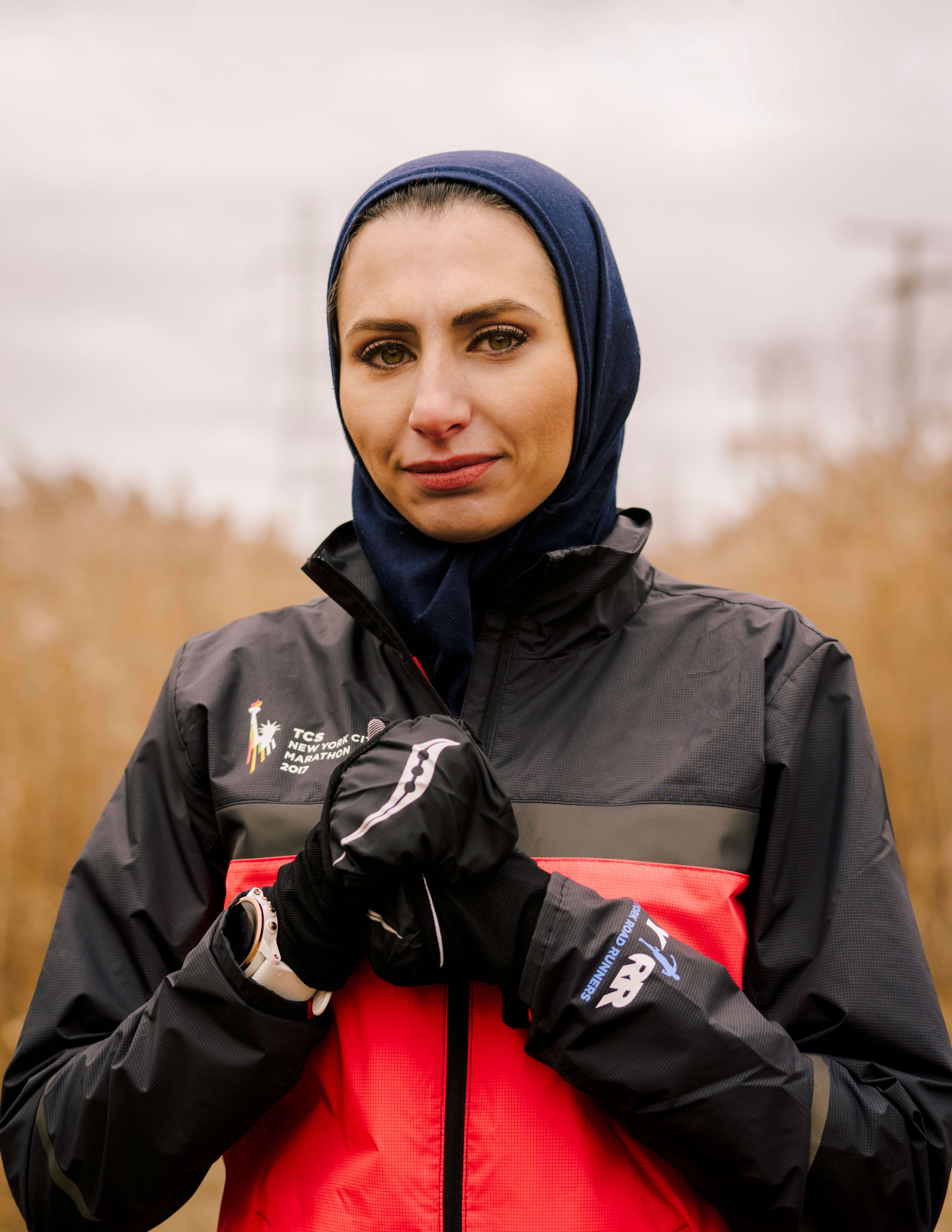 Running gave Rahaf a new sense of identity, and a focused sense of the sort of role model she could be for her community.
"I felt renewed," she says. "The running community accepts who you are no matter what you look like, because in the end we're all crossing the same finish line." Her goal is to run each of the six major world marathons, and she's already well on her way: In April, she ran the Boston Marathon, single-handedly raising $16,000 for refugees, and in November, she notched her fourth, the New York Marathon.
"We have a crisis where Syrians who want to be Americans are coming to Michigan with nothing, they're literally left outside in the street," she says. "They could have been a lawyer with a beautiful life in Syria, now they live in horrid conditions." She's also working on changing the visual representation of Muslim women in the fitness world. "You open up a fitness catalog, or visit a sporting goods store in the mall, you don't see a Muslim hijabi, you just don't." Athletic clothes that conform to a modest silhouette, including longer tops, tights with skirts attached, and hijabs, can be difficult to find. "We lack the appropriate gear," Rahaf explains.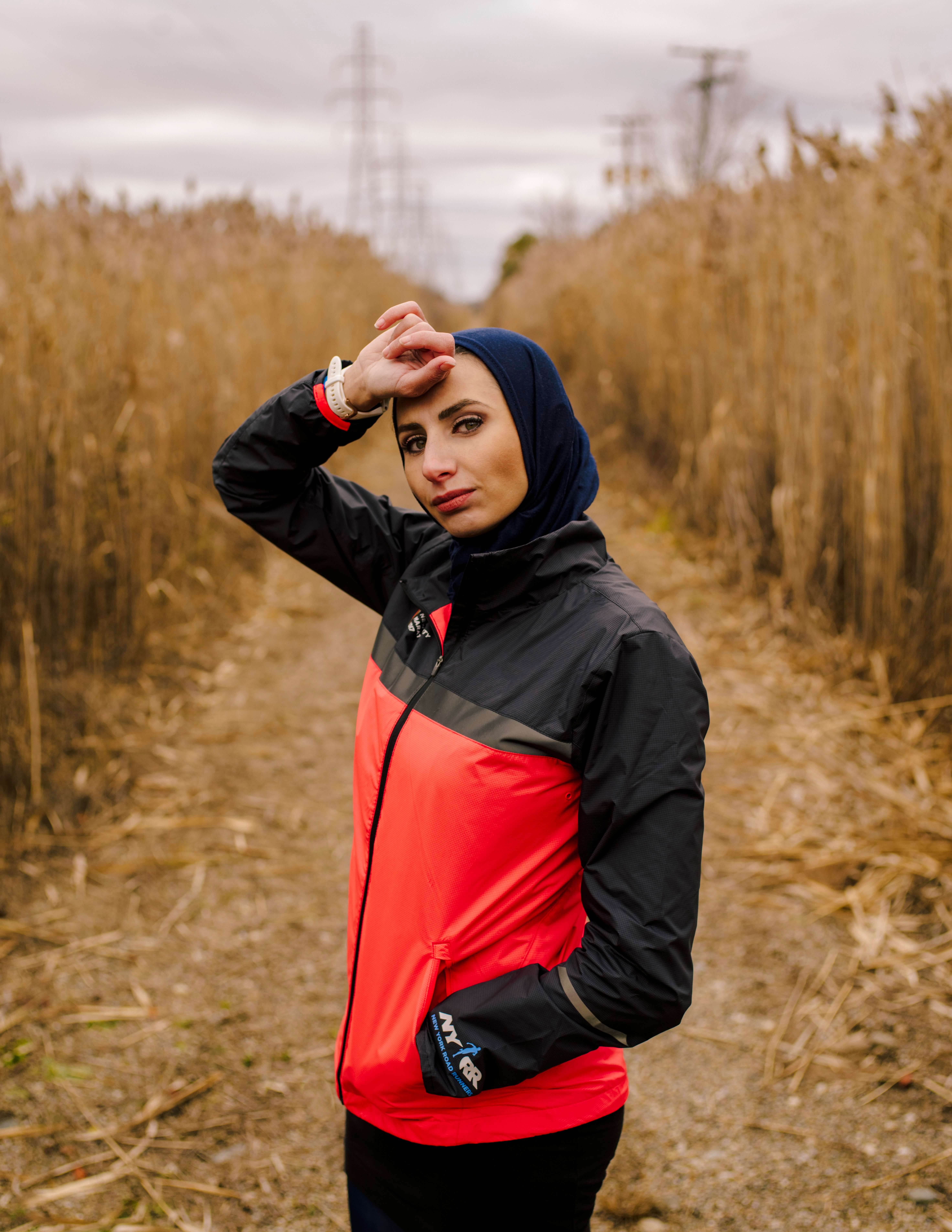 In 2015, Rahaf saw a post on Instagram for the Women's Running magazine touting its first transgender woman cover model. Rahaf commented on the image, "You've covered so many types of people, but you're missing one type: hijabis. We're always underrepresented." When she pressed "post"' she didn't think anyone would read it, but the magazine responded. "They told me,
'We want you to be on the cover of the October 2016 issue.'
Tears were coming out of my eyes. Everything I'd worked for was worth it. The election was in November, and here the US was having the first ever hijabi on the cover of a US fitness magazine."
But the publicity hasn't always been easy: "I've had people writing me telling me to go blow myself up. People telling me to go back home. So many racist comments it got to the point that the magazine wrote to me to apologize." Rahaf finds balance in the face of this negativity by drawing on all aspects of her identity — so that when one piece of her personhood is under attack, she can find strength in the others and keep pushing to break down barriers. And today she feels complete confidence in the path she's chosen to run, because despite the flares of negativity, "every type of community has reached out to tell me how inspiring it was to see me" make a difference as a Muslim-American role model.
Okta is the foundation for secure connections between people and technology. By harnessing the power of the cloud, Okta allows people to access applications on any device at any time, while still enforcing strong security protections. Learn more
Tell us why we should feature your story.
All Fields Required