Identity and Access Management for Your Customers and Partners
Okta provides a broad set of functionality to address the user management, single sign-on and reporting needs for your customer and partner portals.
Overview and Challenges
Enterprises use portals to manage access to web applications that serve customers and partners. Administrators create these portals by assembling multiple behind-the-scenes web applications and services to form a complete solution.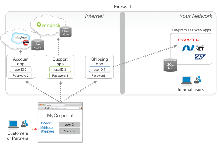 Identity management enterprise portals before Okta
Identity and Access Management challenges associated with Portals:
Users must register separately for each section of the portal
Users must manage different login credentials for each portal section
Separate user stores proliferate and are difficult for the IT team to manage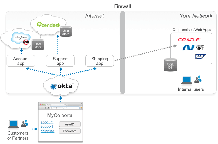 Customer and partner identity access management with Okta
Automating Customer and Partner Identity Access Management
With Okta organizations can quickly and easily automate all customer and partner user management functionality and provide customers and partners with a seamless experience, all with a 100-percent on-demand, secure, highly available service.
Flexible Cloud Identity Store
Okta's native cloud user store can operate independently from, or in combination with, external directory services. User profiles and their associated properties can originate in Okta and be managed from Okta, or they can be mastered from a variety of external sources.
Automated User Registration and Application User Management
With Okta, portal users only need to register once; accounts are then automatically created in each behind-the-scene web application using Okta's user management capabilities.
Application specific user properties such as group membership, role, or profile can be set based on rules associated with the Okta user profile and automatically pushed into the behind-the-scenes applications.
Single Sign-On to Any Cloud or Web Application
Okta creates a seamless end user experience by providing Single Sign-On (SSO) to all of the web applications that make up your portal. Users log in once, and then are passed on to each portion of the portal without having to re-enter credentials.
Integration and Federated Authentication with 3rd Party Portals
Okta identity access management enables partners to embed your portal into their own applications, creating new public facing applications, and can extend your existing desktop login to grant seamless access to their portal with no additional authentication. Learn more about Identity for Sharepoint portals.