Highlight Reel: Top Community Conversations to Prep for 2016
2015 was a year of milestones at Okta. To name a few, we grew significantly, updated our look and feel and celebrated our customers at our most successful customer conference to date, Oktane15.
We also rolled out the new Okta Community, the one-stop shop for users around the globe. COO Frederic Kerrest put it best when he described our Community as a "forum for customers to have ongoing regular dialogue with our teams and with each other." As customers continue to join and participate, the Community has become a powerful resource. Here's a highlight reel of the top conversations this year as we move onward into 2016.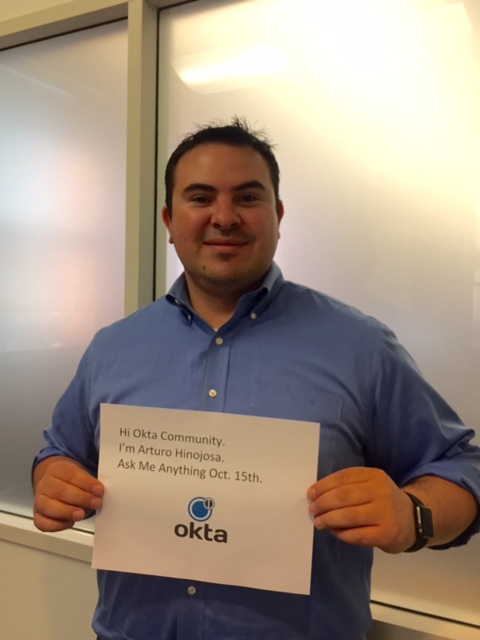 AMA with Arturo Hinojosa: Our own Arturo Hinojosa, senior product marketing manager, hosted our first-ever "Ask Me Anything." Discussion topics ran the range, from technical questions about Okta Mobility Management and Adaptive MFA to lighthearted inquiries about how Arturo almost won our shrimp eating contest. We were pleased to see so many active members join the conversation on both the Community and Twitter. Stay tuned for our next AMA with Karl McGuinness in January.
Oktane15 Session Recordings: Maybe you were unable to join us at our annual customer conference, or maybe you want to relive the experience — either way, the Community has you covered. By popular demand, all session content is live in the Oktane15 group. Whether you're interested in one of the event tracks — SSO + Access Management, Provisioning + Integrations, Mobility + Devices, Platform or Customer Success — or want to find out the latest from our product team, there's something for everybody. And if you're already thinking about next year (we sure are!), take advantage of Super Early Bird Pricing for Oktane16 here.
YubiKey and Okta: One of the most popular Community Forum conversations in 2015 involved our partnership with YubiKey, a USB hardware device that, with a simple touch, triggers a unique, one-time passcode to securely authenticate users. As a cost effective and user-friendly option for strong authentication, YubiKey is bringing sexy back for hard tokens. Here's a snippet of the full discussion:
Rocky Reyes, Turnitin: I picked up my free Yubikey at Oktane15 and would like to begin testing it in our Okta environment. Has anyone started using it in production? How do you add it in MFA?
Andrew Michaelson, Owens Corning: I started testing with it in our sandbox. You just need to request that YubiKey be enabled as a factor in your tenant or sandbox and they can turn it on. There are some pretty simple instructions that are provided for enrollment and it works well. Good luck!
Microsoft DirectAccess and Desktop SSO: Another top discussion focused on the user experience flow between DirectAccess and Okta Desktop SSO:
Jorge Golvano, The Audit Office of New South Wales: We are rolling out Microsoft DirectAccess to allow users to connect to our internal resources. Okta Desktop SSO is used at the moment to provide automatic login for a few services, however, when the users go to Okta through the DirectAccess tunnel it prompts for credentials as the connection is not coming from the Public Gateway IP defined in Okta. Is there any way to "trust" these connections other than the Public Gateway IP (NTLM, certificate or otherwise)?
Matt Egan, Varian Medical Systems: We accomplish this with DirectAccess by adding <ourorg>.okta.com to the NRPT in DirectAccess. This causes all traffic bound for our Okta org to go through the DA Tunnel -> to our datacenters -> Okta. This allows Okta to recognize the requests as having come from our registered network ranges and the Desktop SSO redirect can take place.
Usernames & Custom Expressions: Out of the box, Okta provides a number of default "values" that help admins import specific identity attributes — like your first initial and last name — to automatically determine usernames. In general, these defaults fulfill most people's requirements, but customers can also set up their own custom attributes using custom expressions if they wish:
Jeff Janovich, Carlisle Construction Materials: Trying to get a custom expression setup for a username field. Does anyone have ideas on how I would get the first 10 characters of the first and last name combo? For example, my name is Jeff Janovich and username would be jeffjanov. Any help would be much appreciated.
Brad London, technical manager, Okta: Hi Jeff - This should help you with your scenario. String.substring(user.firstName + user.lastName, 0, 10) You could also wrap this with a lowercase function toLowercase(String.substring(user.firstName + user.lastName, 0, 10))
Like what you see? If you haven't already, head over to the Okta Community within your admin page to join the conversation. See you there!