Businesses at Work 2023: Innovation and resilience in uncertain times
Every business today faces plenty of uncertainty. Macro headwinds such as a tight labor market, high inflation, and rising interest rates abound, making it an undeniably challenging time to run and grow a business. 
To thrive in a climate like this, organizations have to be focused and strategic. They need to double down on workforce efficiency, invest more heavily in security, and innovate their customer-facing initiatives. And as our latest Businesses at Work report shows, many companies are embracing uncertainty to do just that.
Businesses at Work is our annual review of the digital business landscape, powered by anonymized data from customers in the Okta Integration Network (OIN). It details the most popular apps and services that companies are embracing today, providing a glimpse into their strategies for success in 2023 and beyond.
I find this year's report particularly fascinating because it shows how companies across industries are navigating uncertainty and which tools they're choosing to augment their approach. Some categories of apps are seeing explosive growth, while others are slowing as companies shift their priorities. 
Businesses at Work takes a deep dive into all of it, sifting through our robust customer data to identify which apps and digital strategies are gaining traction in these undeniably unique times.
(All data and charts are sourced from the Businesses at Work 2023 report unless otherwise stated.)
It's business as usual, like never before
For me, some of the most eye-opening results in this year's report appear in app adoption by category. 
Our three fastest growing app categories indicate a rapidly changing world, with businesses shifting spending to keep pace. And sitting atop the current growth leaderboard: travel apps. 
#1. Travel takes off
Few industries have seen as much volatility in recent years as travel. Walloped by the COVID-19 pandemic and a shaky global economy, travel took a big hit in the early days of 2020. 
But as Businesses at Work reveals, travel came roaring back in 2022. The travel apps in our network reported the strongest year-over-year (YoY) growth of any category, in both customers (43%) and unique users (197%). The report digs deeper to find that North America is driving that travel growth, and the tech industry is seeing the largest boost in usage of travel apps.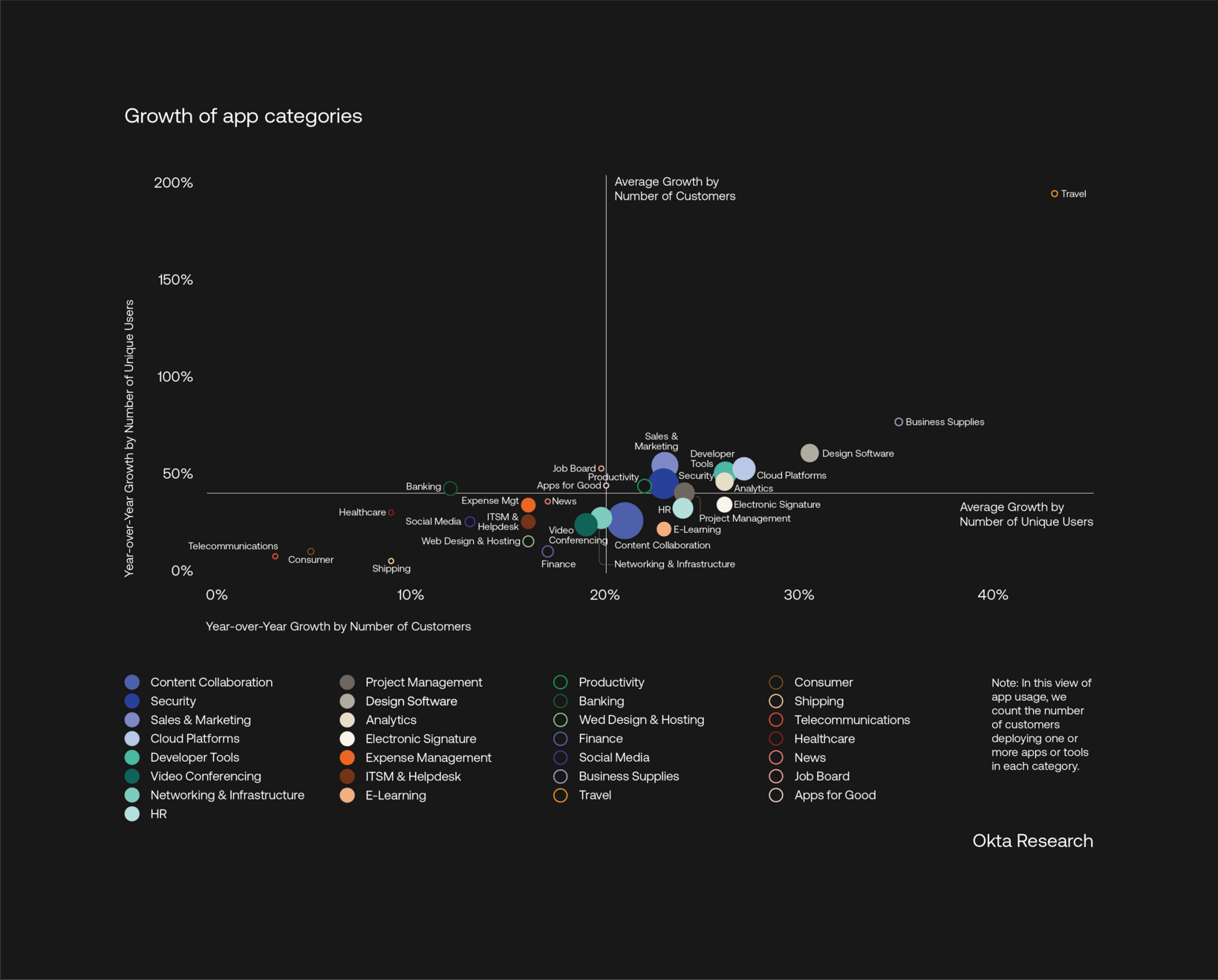 My takeaway from these numbers is that the business travel freeze seems to be thawing, with workers finally meeting clients in person again and attending in-person events more frequently. Whether travel's comeback continues in 2023 or not remains to be seen, especially with ongoing uncertainty around both Covid-19 and the global economy.
#2. Business supplies rebound
Travel's dominance is a big shift from just two years ago, when the fastest growing apps in our report were in business supplies, security, and networking and infrastructure. And it makes sense; back then, companies were spending heavily on critical tools and apps to support remote work. 
While business supplies fell out of the top 10 app categories last year as workers hummed along in their remote work set-ups, our new report finds that business is booming once again, likely spurred by a partial exodus back to the office. It was our second-fastest-growing category in the past year, with a 35% increase in customers and a 77% increase in unique users.
#3. Design apps remain in demand
Finally, the third-fastest-growing app category in our network was design, which saw 31% YoY growth in customers. That's just slightly down from the 39% growth the previous year, when it was our chart-topping category. Clearly design work and the modern digital tools to support it remain in high demand – and that demand stems from a surprising array of industries, including transportation and warehousing, insurance, and healthcare/pharmaceuticals. 
A growing focus on efficiency and automation 
One big reason I look forward to reading this report every year is learning which apps in our network are seeing the fastest growth. Across all categories, Kandji, which posted an incredible 172% YoY jump in customers, topped the charts as our fastest growing app. This mobile device management (MDM) tool, which is also an Okta Ventures portfolio company, lets IT administrators automate repetitive device management tasks and ensure that devices meet security and compliance requirements.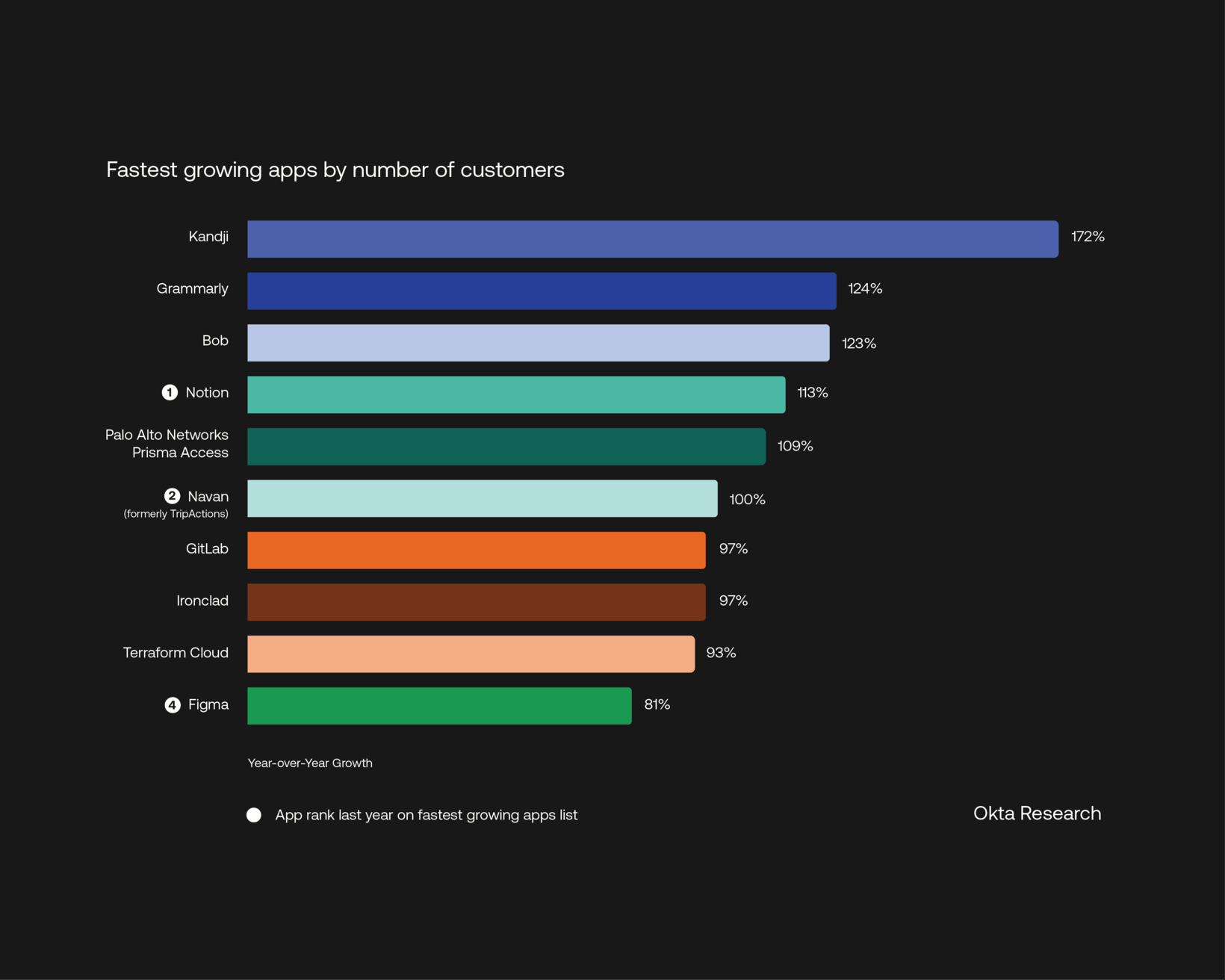 Kandji's rapid ascent suggests that automation is in high demand as IT teams do more with less. And with remote work here to stay, tools like Kandji enable organizations to manage their devices safely beyond the confines of the office. We see similar growth among other device management platforms, including longtime category leader Jamf Pro, which posted hard-to-beat 428% customer growth over the past four years and still claims more customers than any other MDM tool. 
Businesses at Work also notes the growing adoption of Okta Workflows — our no-code automation tool that makes it easy to automate Identity management processes at scale. I was happy to see that, according to the report, usage of Okta Workflows is rising across a variety of industries: 
Tech

leads in the number of live accounts deploying workflows

The

insurance

industry averages the highest workflow deployment per account (40).

Many other sectors are starting to catch up. In the second half of 2022, the

healthcare and pharmaceuticals

sector saw 58% growth in workflow usage by number of live accounts, while

finance and banking

came in second with 52% growth.
Hybrid work drives cloud-first solutions
Remote, in-office, or hybrid — which work policy is best? It's become a seemingly endless debate. (I'll save my own thoughts on it for another day.) 
To support productivity no matter where it happens, companies are increasingly turning to the cloud. They're leveraging the versatility of cloud-first environments, embracing best-of-breed apps to augment their software bundles, and deploying multiple cloud platforms for ever-greater flexibility and scalability.
In short, they're using more and more apps to deliver on their mission. Companies with at least 2,000 employees lead the pack according to our report, with an average of 211 apps apiece.
We're also seeing companies adding best-of-breed apps such as Zoom, Slack, and Box on top of productivity suites. For example, this year's report reveals that 48% of Okta's Microsoft 365 customers also deploy Zoom, and 42% deploy Google Workspace.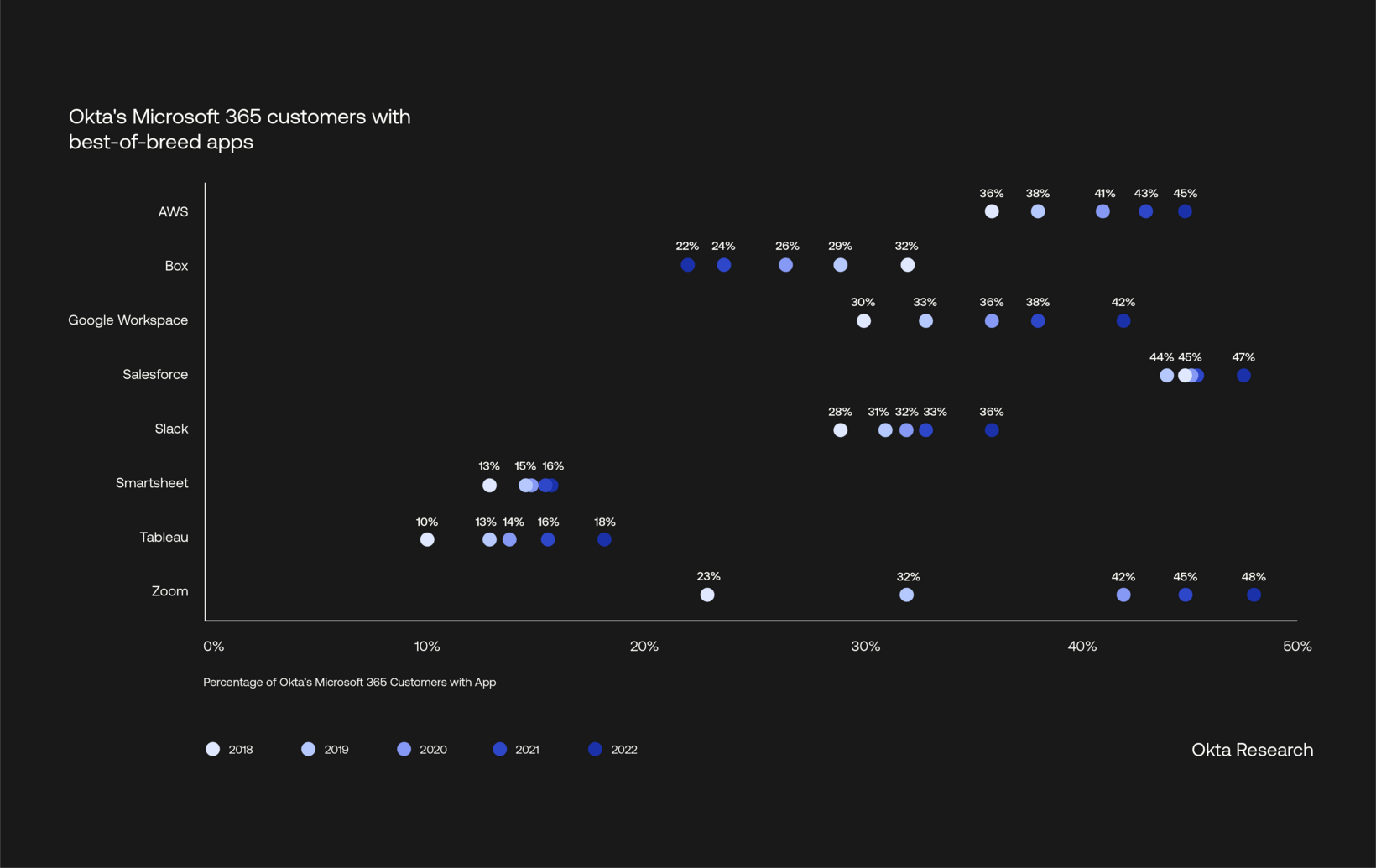 Meanwhile, multi-cloud adoption has been growing since 2017 and shows no signs of slowing down. Amazon Web Services (AWS) remains dominant as both a single cloud platform and as part of many organizations' multi-cloud strategies, with 27% YoY growth in customers and 50% growth in unique users. 
Embracing Identity-based security and higher assurance factors
While supporting hybrid work is a big priority for our customers, so is keeping that work secure. So I'm not surprised to learn that the deployment of security tools grew 23% YoY by number of customers and 43% YoY by unique users. 
But Businesses at Work also reveals that security strategies are evolving. More organizations are realizing that not all multi-factor authentication (MFA) is created equal. As they do, they're seeking higher-assurance factors in their MFA solutions. Low-assurance security questions are experiencing the slowest growth across the board (3% YoY by number of customers), while high-assurance security keys and biometrics (including WebAuthn) are growing more quickly (46% YoY by number of customers and a chart-topping 211% by unique users). And Okta Verify, our high-assurance factor that includes Push and FastPass, is now deployed by 88% of OIN customers.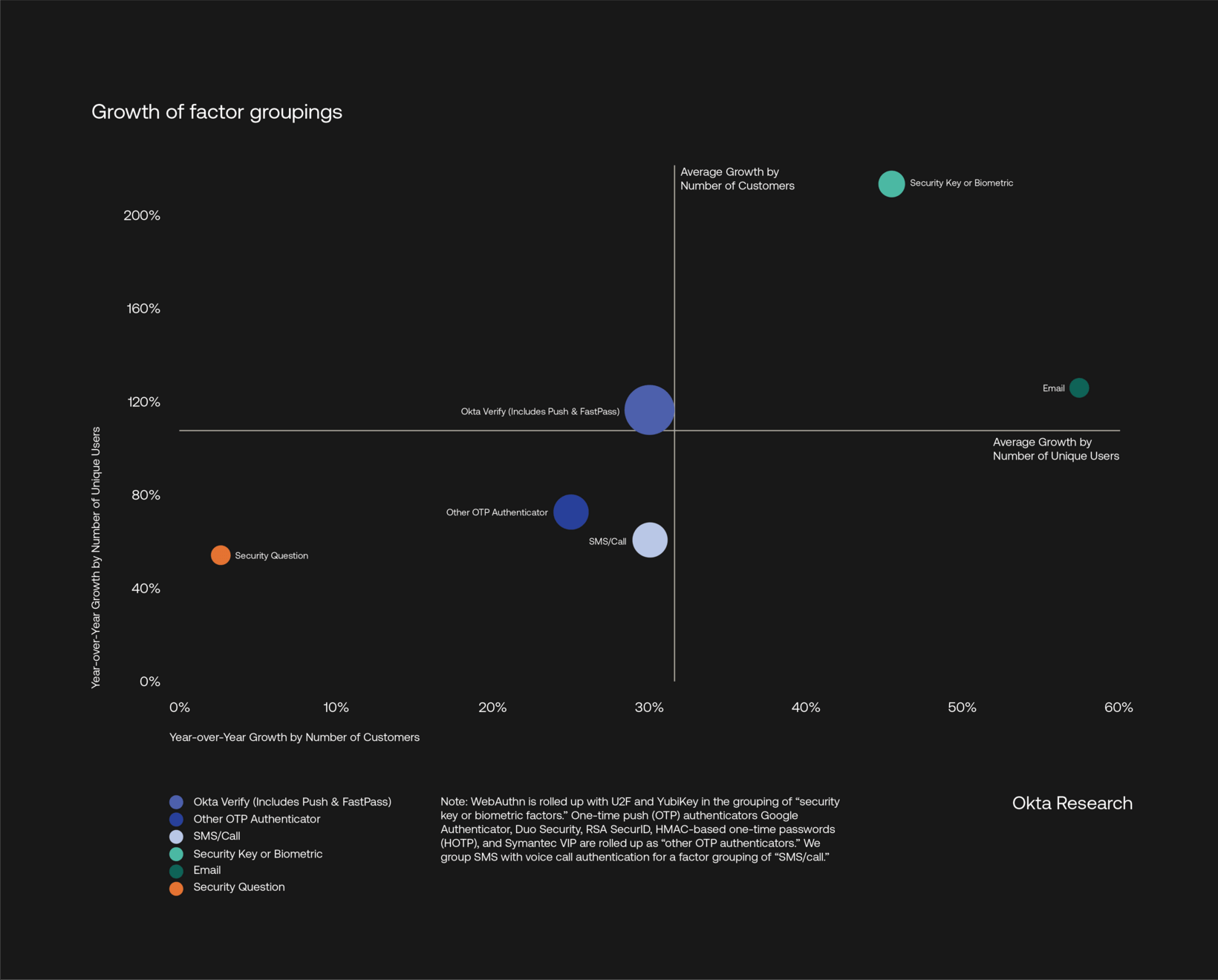 Finally, I'm glad to see that Zero Trust is clearly gaining steam. Okta customers are approaching Zero Trust strategically across different perspectives:
Networks

: The use of risk-based policies has grown 147% over the past two years. 

Users

: We've seen 60% growth in the number of customers implementing WebAuthn, the new global standard for password-free web authentication.

Devices

: The number of customers deploying device-trust configurations grew 21% YoY. 
Onward and upward
Businesses at Work paints a clear picture of an emerging new normal. Spending on priorities like travel and business supplies may have rebounded, but companies aren't acting as if we've returned to 2020. Instead, they're looking to the future, doubling down on cloud-based solutions, more robust security approaches, and automation-powered efficiency to ensure safe and sustainable growth in 2023 and beyond.
As for what the new year holds in store, I have a few predictions. It's a safe bet that we'll see increased usage of Okta Workflows, more best-of-breed app augmentation, and growing Zero Trust adoption as companies of all sizes continue or complete their migration to the cloud. 
I look forward to recapping all of that and more in next year's report. For now, enjoy Businesses at Work 2023.
Keen to get a historical perspective? Don't miss our previous Businesses at Work reports: