London Calling: #OktaForum Crosses the Pond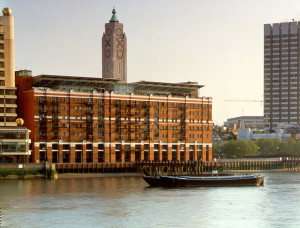 First it was the Windy City, then the Big Apple and, to complete our inaugural Identity & Mobility Forum series, our team most recently headed to London.
We met with hundreds of IT leaders at the Oxo Tower Wharf for our final Forum event a couple weeks ago. It was an incredible opportunity for us to hear IT leaders discuss their cloud and mobile strategies, meet with local customers and also to share our vision for the future of identity and mobility management. We were excited to meet with hundreds of IT pros across the three events and wanted to make sure the key learnings could be enjoyed by everyone.
We've included a short recap video, along with some key takeaways from the Forum, below.
1) IT Moves the Business Forward: The NEXT next phase of IT, which we've been calling IT 3.0, was a recurring theme throughout the event. The IT function has transitioned from the legacy world of installing, managing and maintaining monolithic on-prem systems. With the advent of cloud technology, IT 2.0 enables leaders to be more of a service provider to the business and focus on delivering high quality experiences for employees. IT 3.0 is where we're headed. IT leaders are taking a significant role in top line initiatives including product development and partner and customer engagement. IT has the opportunity to move the top line, becoming a revenue producer in its own right. During his opening keynote, CEO Todd McKinnon shared how pharmaceutical company Allergan, for example, has built a digital business by adopting cloud technology. Seamless access to information across devices means doctors can prescribe more frequently and with richer context, HR is more efficient and patients receive better care. IT 3.0 has enabled forward-thinking IT leaders to free up time and resources in order to focus on bigger, higher value initiatives.
2) Security and Usability – You Can Have It All: While user experience has always been core to consumer-facing apps, the same is hardly true in the enterprise. We've long blamed the need to maintain high security postures for our shortcomings. That's no longer the case, as we're seeing more and more businesses build great user experiences, without sacrificing security.. Gatwick Airport, our first European customer, uses Okta to empower its mobile 3,000-person workforce. During his presentation, Gatwick's CIO, Michael Ibbitson, shared a story about an aircraft with a punctured tire, and when it landed on the runway, the grounds team snapped photos with their BYOD phones, immediately uploaded to Box and let the central office quickly determine whether to send maintenance or plan to close the runway altogether.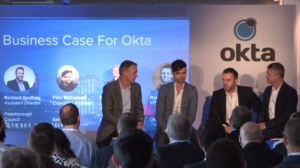 3) Customers Focus on Results: IT leaders from businesses of all sizes and industries joined us onstage to share their strategies, and how Okta helps bring these strategies to life. Rob Butterworth shared how he approached the "IT makeover" for London-based venture firm Amadeus Capital to reduce administrative tasks and maximize security. Amadeus now requires only one person to manage password and URL-related requests, freeing up time and resources so IT can focus on its primary goal of funding, supporting and driving innovation within its portfolio of more than 85 technology companies. Later in the day, Richard Godfrey from Peterborough City Council, Gaston Zilleruelo from Amway Corporation and Finn McConnell from Betfair, one of the world's largest Internet betting exchanges, participated in a panel discussion about the security, productivity and financial considerations that led them to select various cloud technology providers and choose Okta. The biggest takeaway? Investing in cloud-based solutions like Okta translates into more than one type of cost saving – not only do you automate manual, time consuming tasks, but you also bring about "soft gains" such as greater productivity, agility across departments and reduced risk in the face of BYOD and widespread availability of freemium apps.
Check out the full video recordings from our London Identity & Mobility Forum sessions. Next up? Join us in Las Vegas for three days of customer insight, product news and inspiring keynotes at our annual conference, Oktane15.