Okta Partner Awards: Celebrating Our 2020 Partners
As an integration company, Okta can only be as successful as our innovation and partnerships allow us to be. And this is why, over the years, we've developed a powerful partner ecosystem to foster both. Partners help us innovate, accelerate our growth, and allow for the best-of-breed options that modern organizations have come to expect. Not only can Okta fill that expectation—we have come to lead it. This would not be possible without our partners, and for the last 6 years, we've enjoyed acknowledging, thanking and celebrating their achievements.
Although this year is no different in our appreciation, it lands at a time when innovation is key to the road forward for everyone. As we followed the spread of the 2019 coronavirus disease (COVID-19), it became clear that a quick pivot was needed, and Oktane20 Live was the result. Within that experience, we engaged with our partner community through the digital Partner Summit.
We used this interactive summit to reconnect with our global partner ecosystem, exchanging ideas, hearing business updates and insights from Okta's leaders, as well as discussing strategies for joint opportunities ahead.
And, no different to any other year, we awarded our top partners for their growth and accomplishments. With the Partner of the Year awards, we virtually handed out awards to partners who exemplify Okta's Core Values, and continue to go above and beyond.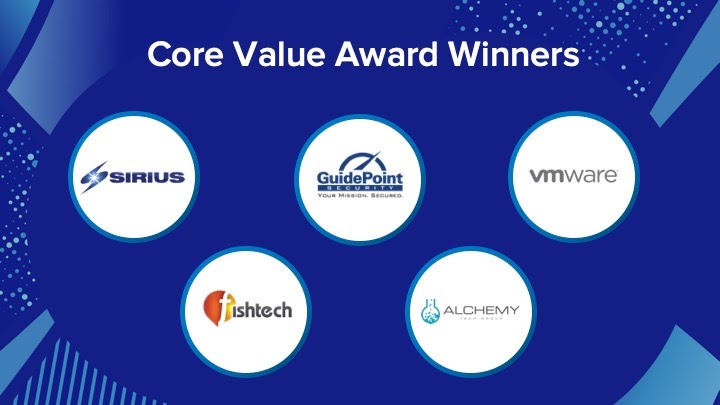 FY20 Core Value Awards
Okta's core values guide our interactions, from our interview process to how we engage with our customers, and these values are important to our partners, too. These awards are presented to exemplary partners who put customers at the forefront. They deliver projects on time and on budget, innovate by bringing new implementations and ideas to life, maintain transparency across our joint sales teams, put plans in place, and backed them up with integrity.
Customer Success: Sirius received our Customer First Award after demonstrating how important it is to listen to customer challenges and offer the right solutions. When partnering with Sirius, our sales teams know the end result is a happy customer. And happy customers buy more software!
Innovation: Our Innovation Award went to GuidePoint, recognized for their drive to grow our partnership, positive attitude toward making changes, and incredible year-over-year growth. Guidepoint advanced to the top tier in Okta's partner program this year. Quarter after quarter, they've used their customer relationships and strategic partnerships to win net new logos and exceed growth targets. Working with other best-of-breed security vendors, they have built a national strategy.
Transparency: Our Transparency Award was awarded to Fishtech, who, throughout the year, worked very closely with Okta's Named Account Team on a number of large opportunities leading to key strategic wins. Large, complex deals require a high level of trust in the partnership. Always transparent in their stakeholder relationships with customers, Fishtech provided Okta with invaluable information during the sales cycle to secure these wins.
Integrity: We honored VMware with our Integrity Award, for building a partnership on integrity and achieving global impact through initiatives that span product, marketing, and go-to-market teams. Our field sales teams have built trusted relationships resulting in tangible ARR impact for both companies in FY20.
Culture: Alchemy Technology Group received our Culture Award, because they truly embody Okta's culture through empowering their people. In the last few years, Alchemy has driven deep engagement with Okta's partner sales and pre-sales accreditations, and are now driving the sales cycle, as well as deployments for customers on their own.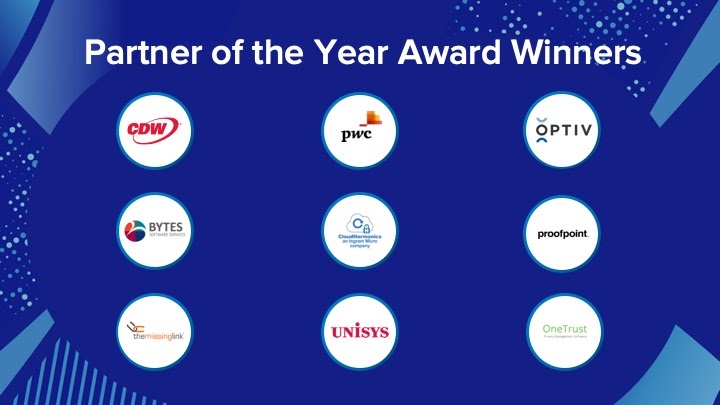 FY20 Partner of the Year Awards
Our Partner of the Year awards were achieved by partners who consistently excel as partners, dedicating themselves to Okta and our joint go-to-market goals. These winners have not only driven growth in the number of customers they're working with, but have consistently delivered value to customers through new integrations, certifications, and services.
North America Partner of the Year: CDW is one of Okta's focus partners in the U.S. In 2019 they played a key role in the commercial business, fueling expansion into new regions, including the UK and Canada, and furthering their sales engagement which resulted in exponential growth in their ARR.
"CDW is best in class, winning across all segments, accelerating our partnership while improving customer experience. Congratulations to CDW on winning North America Partner of the year." — Tim Wiggs, National Alliances Director – CDW
EMEA Partner of the Year: Bytes Softwares Services is committed to succeeding with Okta. They have invested in a dedicated salesperson to focus on Okta and helped to build a consistent pipeline, and have also created an identity message around the Okta solution.
"Bytes has been the ideal partner; they understood how important enablement was and chose the smart alignment with AE's in order to show quick results, now they are one of our top EMEA partners." — Giovanni Natalino, Director Regional Alliance EMEA
APAC Partner of the Year: The Missing Link is a key strategic partner for Okta, working across all of Okta's sales segments. They have invested in Okta by focusing resources internally, allowing them to sell both Workforce and Customer Identity.
"The Missing Link was one of APAC's key GTM partners in 2019 closing a large deal in the FSI vertical with a very strategic customer. Their sales team actively mapped to white space accounts and drove net-new business, and they are an extension of the Okta team in the field. On the back of a very strong 2019, The Missing Link is continuing to invest in Okta, adding dedicated resources to continue growth and net new customer acquisition." — Matt Paull, Director Regional Alliance APAC
Public Sector Partner of the Year: Unisys was instrumental in the success of our Public Sector business in 2019. They helped a very large SLED organization standardize on a modern identity solution by implementing Okta as part of the state's overall legacy modernization efforts.
"Unisys was one of the first system integrators to embrace Okta's IDaaS offering across the Federal & SLED market space and they're seeing the rewards of their pursuit." — Alan Miller, Regional Alliance Director – Federal
Distributor Partner of the Year : Cloud Harmonics was introduced when we launched our Okta Partner Connect Program to help us grow and scale our reseller ecosystem. Since our partnership began, they have completed a total of 24 partner sales and pre-sales accreditations, 4 Okta certifications and have supported many of our Solution Providers in North America.
"I see tremendous potential for our partnership with Cloud Harmonics. The effort and commitment they've demonstrated towards earning accreditations and certifications will be paid forward as they now help enable our Partner community to earn their Sales and Pre Sales accreditations. Cloud Harmonics has always been a leader in vendor enablement and they are proving themselves to be leading the charge with Okta now, too." — Phanneth Wood, Sr. Manager Global Distribution
GSI Partner of the Year: PwC increased their internal awareness and field engagement which grew the business exponentially. Their go-to-market strategy includes international expansion, additional internal education and the successful deployment of Okta for large named accounts.
"I am excited to be working with PwC as they exemplify what a partnership means, they are dedicated and focused on growing their Okta business." — Beth Duffy, Senior Strategic Alliance Manager
Technology Partner of the Year: Proofpoint has become a top strategic partner and experienced massive growth throughout the year with Okta. Together we expanded into the State and Local Education sector, and redefined multiple integrations and use cases to help our respective sales teams win more deals together.
"The Proofpoint team has done an amazing job leaning in and working strategically with Okta across multiple go-to-market teams. They've been a tremendous asset for our sales team to align jointly in the field. The executive support from the top down has made this partnership a tremendous success. We look forward to another fantastic year together in FY21." — Alex Rich, Senior Strategic Alliance Manager
CIAM Partner of the Year : OneTrust is a leader in the Consent Management space and has become a partner to our marketing and sales teams. They are engaging at all levels to bring innovative customer identity solutions to our customers.
"We very much value our partnership with OneTrust as it is great to see two industry leaders come together to provide our customers with an identity + consent solution." — Eric Souder, Sr. Manager, Technology Partnerships
Global Partner of the Year : Optiv had yet another banner year selling Okta, thus earning the Global Partner of the Year award for the second year in a row. They have developed themselves as a major player in the Identity & Access Management space while promoting Okta. Optiv has built a very strong technical pre-sales and delivery team supporting Okta discussions and installations across the country.
"Optiv is at the forefront in engaging with our sales team as a go-to-market partner, their deep knowledge in the IAM space and skills allows them to sell and deploy Okta to our joint clients. I am truly excited with the growth and achievements of this partnerships over the last few years." — Adam Schepps, National Alliances Director – Optiv
A special thank you to all of this year's award winners, and to our entire partner ecosystem. To learn more about our partner program, Okta Partner Connect, or become a partner, visit us here!