Making Mergers & Acquisitions Simpler: How to Avoid the Costs of AD Domain Consolidation
This week, we are releasing a new white paper that covers a common challenge that many large enterprises face at some point in their lifetime – mergers and acquisitions (M&A) and the complicated IT processes that generally follow in their wake.
M&A's are a strategic source of value creation. The past 30 years have seen a near exponential increase in global deal volume. Businesses increasingly see mergers and acquisitions as strategic tools to increase shareholder value, and there is no reason to think that trend will abate. A recent Deloitte survey found that:
75% of surveyed executives expect deal activity to increase
64% expect to see deal size increase and
73% expect to divest a business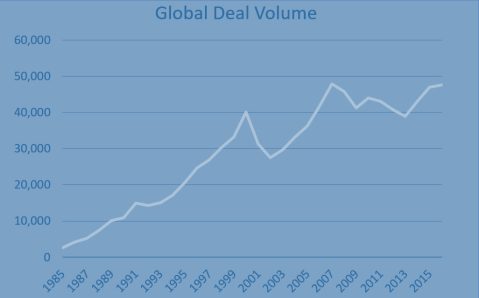 Accelerating Global M&A Activity
[1] Deloitte survey of 1,000 executives (M&A Trends, Year-end report 2016)
As deals get more prevalent and larger, they naturally get more complex. That complexity comes at a cost, manifesting itself in the form of issues along a number of dimensions including Domain Consolidation.
During M&As, AD domain consolidation can prove to be a painful and time-consuming process. It requires combining ADs from different company segments that have their own autonomous operations and user organization, resulting in complex AD infrastructure. This challenge of AD domain consolidation is also prevalent for conglomerates with multiple geographies and business units operating independently of each other. There is often a lack of trust established between these disparate user stores, and it becomes challenging to align local IT operations with those managed by the centralized head office IT team.
For more on AD Domain Consolidation and using Cloud IAM to speed up the M&A process, watch this on demand webinar featuring guest speaker Merritt Maxim, Principal Analyst, at Forrester.
To make matters more difficult, these types of transitions can also leave companies vulnerable to attacks, as integration typically impacts security and an IT team's visibility into who is accessing what tools and information. Without a doubt, M&A integration can become one of the most – if not, the most – challenging tasks IT departments have to tackle.
Okta has the ability to significantly ease such a transition. Our Universal Directory enables companies to connect an unlimited number of directories, as well as bring legacy data to the cloud in a single source of truth without needing AD forest trusts or firewall holes. Our Okta Integration Network also has over 5,000 pre-built integrations with various applications, meaning that it can help your newly acquired employees quickly operate the programs chosen by your team. This is just the tip of the iceberg for what the Okta platform can do.
Of course, actions speak louder than words. This white paper also recaps in detail various case studies we've done with world-leading companies that have made M&A a strategic part of their business. Whether it's Engie deploying its applications 100+ AD domains around the world, or National Geographic cleaning up and linking directories with 21st Century Fox, Okta has helped streamline their M&A process and beyond.