Join Flowcase 2023 and Unlock the Power of Identity Automation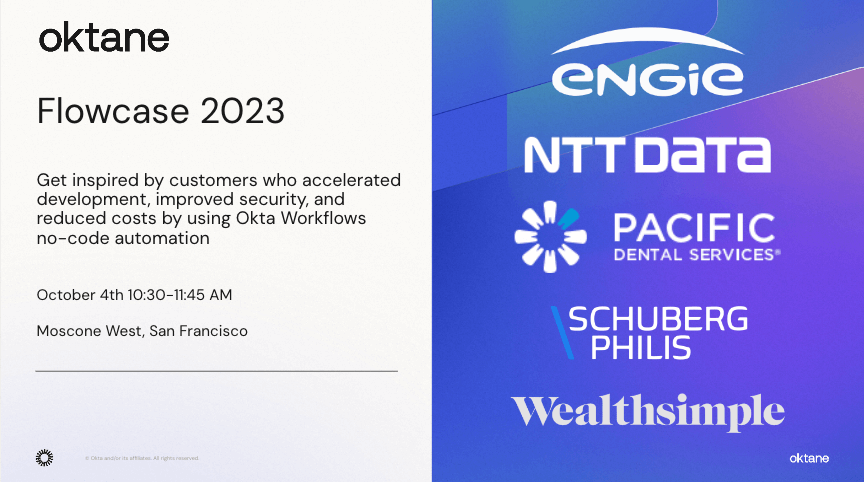 Learn how to leverage no-code identity automation to accelerate development, improve security, and reduce complexity. 
What is Flowcase 2023:
Flowcase 2023 celebrates and showcases customers who use Okta Workflows automation platform to solve their most relevant identity-based challenges. You will hear from five companies across various industries and how they moved their businesses forward with identity automation.
Where and when is Flowcase 2023? This session will be live at Oktane23, on Wednesday, October 4th from 10:30 - 11:45AM, at Moscone West in San Francisco, CA.
Tell me more:
Hear from some of our biggest Workflows champion customers, such as Engie, Wealthsimple, NTT DATA, Schuberg Philis, and Pacific Dental on how they're using Workflows to move their business forward. The program agenda also includes announcements such as launching Workflows for CIC, and other sneak peeks into our Workflows roadmap.
What can I take away from Flowcase?
Flowcase aims to inspire you to use and do more with Workflows to drive their identity automation ideas towards real business outcomes. From keynote speakers like our very own CEO, Todd McKinnon, to getting a sneak peek at the industry's latest innovations, you won't want to miss this!
Register for Oktane23 now.