Adopt a Zero Trust Security Model
Zero trusts given
Protect against the leading cause of data breaches
More than 70% of hacking-related breaches are caused by stolen credentials.* Mitigate credential-focused attacks for your organization.

Centralize access controls and policies
The shift away from the network perimeter means IT admins need one centralized point to manage access for all apps, both cloud and on-prem.

Extend Zero Trust to servers and APIs
Disparate access control issues aren't only at the application layer. IT and security teams also need to manage access across the tech stack, including to servers and APIs.

Secure access for your global workforce - employees, partners, and contractors
Unify access across your cloud and on-prem apps for all users, ensuring the right users have access to only the resources they need, and at the right time. 
Additional security layers, when and where they're needed
Protect against credential-focused attacks with adaptive, context-based multi-factor authentication. Enable a secure passwordless experience for your end users.
Benefits
Securely embrace the rise of cloud and mobile. Move away from traditional perimeter-focused approaches to security and instead focus resources on enabling access for all users (employees, contractors, partners, etc.) – regardless of their location, device, or network. 
Automate onboarding and offboarding
Mitigate the risk of orphan accounts or latent access with automated offboarding, using your directory (AD, LDAP, etc.) or HR system as your system of record.
Zero Trust for apps, servers, and APIs
Extend access controls to not only apps, but also Windows and Linux servers as well as to APIs to ensure only the right people have access to the right resources, at the right time.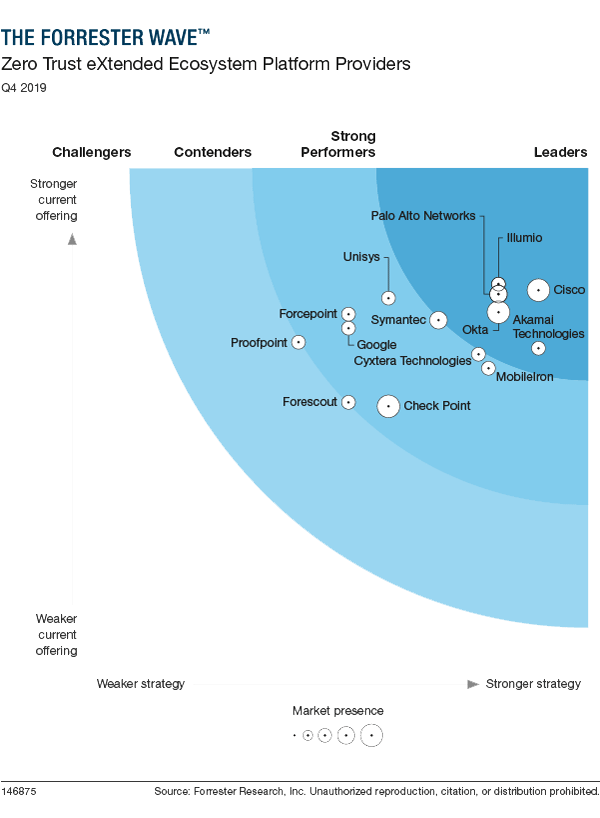 Okta named a Leader
The Forrester Wave™: Zero Trust eXtended Ecosystem Platform Providers, Q4 2019
Forrester's evolution of the Zero Trust framework – the Zero Trust Extended Ecosystem (ZTX), led by analyst Dr. Chase Cunningham – emphasizes the shift beyond network segmentation.
Okta has been recognized as a Leader in Zero Trust Security.
Find out where you are in your Zero Trust journey today
There is no silver bullet when it comes to Zero Trust, but many organizations choose identity and access management as the foundation for their Zero Trust strategy. Find out where you are in your Zero Trust identity maturity today, how you compare to other organizations worldwide, and get recommendations for how you can take your identity-driven security to the next level.
Products
Ready to get started on your Zero Trust journey? Let identity and access management serve as your foundation. Here's how:
Integrations
There is no silver bullet or single vendor solution for Zero Trust. Okta integrates with solutions across your security stack so you can strengthen your organization even more easily:
Learn More
For more information on leveraging identity and access management as the foundation for your Zero Trust strategy, check out: