Partner or Customer SSO
Connect multiple apps with one username, one password, and one session
The Challenge
A pain in the portal
Portals are designed with an ambitious goal: to stitch together applications and data from disparate sources so that it all functions as a single "super app." But portals often fail because they don't solve for the underlying identity problems.
Users have to register separately for each section of the portal and remember login credentials for each section. On the backend, admins end up with disconnected user stores, proliferating attributes, and conflicting data. Plus, the potentially huge number of accounts and credentials exposes your portal to risk of password theft or account compromise. It's a huge investment of time and resources from developers for remarkably low UX payoff.
Okta bridges the identity gaps, so your portals can work the way they're designed to work.
The Solution
Okta Identity Cloud
---
Single Sign-On
If your product connects several apps together but requires people to authenticate every time they jump into a new section, you're losing major UX points. With Okta, users can click once to sign in to everything.
Features
Link any set of applications with one username, one password, and one session
Deploy prebuilt integrations into apps like Salesforce, Zendesk, Netsuite, and Box
Rely on Okta for testing and maintenance of your connectors, and get the certainty that they're always up to date
---
Provisioning
With Okta, you can automatically create user accounts for on-prem and cloud services, and then revoke access when an account is canceled. Implement Okta's connectors or write your own to build cross-application experiences that are more secure, more intuitive, and more delightful.
Features
Push attributes from any user store into external services for automated provisioning
Read and write user profile information from any application, such as Salesforce, Box, or Sharepoint
Read and write attributes from multiple databases, or write to multiple AD and LDAP stores
Deploy Okta's on-prem connector to provision applications behind the firewall
---
Universal Directory
User identities live in a lot of different places. With Okta's Universal Directory, you can create a centralized view of all your users, wherever they're mastered. It'll make access management more straightforward and secure and give users a consistent experience across your products.
Features
Build a single repository for user identity information
Store profiles, manage passwords, and apply access policies
Create a consistent UX across every part of your app
---
Inbound Federation
Federating an organization into your app is tough. With Okta, it's easy. Think of us as your ambassadors. Okta's platform connects you to any number of federated identity providers—then negotiates implementations and manages trust.
Features
Rapidly onboard partners and customers to your application, with no extra work for your team
Make it easy for partners to manage access to your applications locally, according to their own policies and processes
Secure your connections with standards-based federation
Do it all at scale
Make quick work of integration

Build on Okta's extensible platform to integrate with existing identity and access management solutions
Offer SSO and user management for applications running on another IDaaS system
Save time integrating with cloud-based and on-prem solutions

Automate identity management

Automate all customer and partner user management functionality
Provide customers and partners with a seamless experience
Build on a 100% on-demand, secure, highly available service
We provide an array of services to over one million members through our website, Rotary.org. We're looking to make the access to these applications as simple and as easy as possible. Okta simplifies the experience significantly.

– Peter Markos, CIO, Rotary International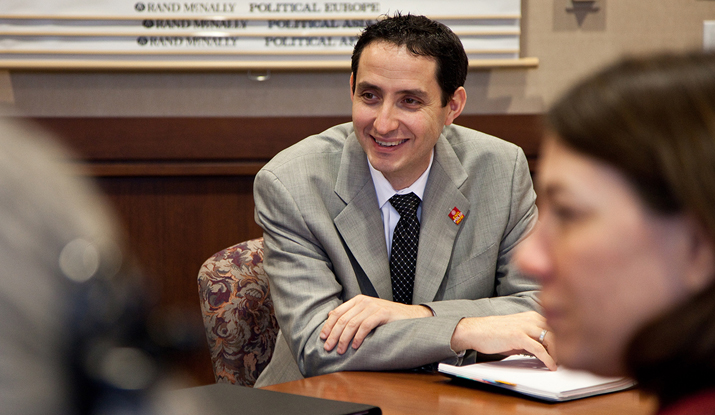 Rotary International
Rotary International used Okta to secure a digital portal for millions of members around the world.