Okta Secures Motorists Insurance's Hybrid Environment
Watch the Video
agents with secure, seamless access
policyholders better served
companies securely connected
Going digital

Security and convenience required

A best of breeds world

Driving change
The Motorists Insurance Group, a collective of 16 distinct insurance companies, knew that in order to keep insurance agents happy and enthusiastic about using its tools, it needed to streamline and simplify the user experience. As a result, Motorists decided to modernize its network, rebuilding agent service offerings and processes from the ground up.
Security and convenience required
The group realized it needed an end-to-end identity solution that would deliver a seamless and painless experience for agents, as well as increase control and governance. Motorists brought together a range of solutions that, together, would drive business and make it easier for everyone to get the job done. These solutions included Okta's Single Sign-On (SSO), Universal Directory and Multi-Factor Authentication (MFA).
With Okta's Customer Identity and Access Management (CIAM) solution and Okta's out-of-the-box OIN integrations, Motorists was able to choose the apps that best suited its needs. F5 provides agent access to on-prem systems and applications, MuleSoft ensures that each agent is accessing the right backend services, Guidewire manages policies, billings and claims, and SailPoint helps take care of identity governance.
By modernizing its hybrid environment and adopting best of breed solutions, Motorists has reduced IT costs, provided a secure single sign-on experience for its customers—an army of more than 20,000 independent insurance agents—and accelerated its transition to a cloud-first, mobile-first organization.
A Seamless User Experience Keeps Agents Happy
Motorists' disjointed IT infrastructure with its multiple portals was leaving agents feeling frustrated. The insurance collective streamlined and secured the agent experience with Okta for Customer Identity Access Management with easy-to-adopt, out-of-the-box integrations to support its hybrid environment. Watch the full video.
Watch the full video
As we started looking through identity solutions, we wanted one that could support a hybrid environment. It had to be easy to administer and it had to be geared toward a customer-centric approach. It also had to be an innovative approach, not just a bolt-on system to augment the legacy platforms. We really wanted to embrace a new direction.
Tony DeAngelo, AVP, Information Security at Motorists Insurance
Benefits
Created end-to-end identity solution to deliver a seamless and painless customer experience
Restructured its IT network with Okta as the central identity provider
Made business efficient for agents
Freed agents to authenticate easily through one portal
Allows agents to access resources across the Motorists cloud and on-prem applications
Provided deeper level of self-service to policyholders
Increased agent satisfaction
Reduced frustration around account management
Fewer calls to IT support
Out with the old
In the insurance industry, mergers and acquisitions are just part of doing business. But just because M&As are common, that doesn't mean they're simple, especially when it comes to managing the legacy infrastructure of multiple companies. That's exactly the challenge Motorists Insurance was facing when it reached out to Okta for help.
The Motorists Insurance Group is a collective of 16 different insurance companies. It's a mutual company owned by policyholders, powered by independent insurance agents, and operating out of individual offices from Maine to Nebraska to Florida.
The group provides insurance policies to more than 700,000 individual policyholders, often for decades. Instead of selling directly to consumers, its business is handled by independent agents, so keeping those agents happy and productive is key to the company's success.
Motorists realized its legacy infrastructure was causing friction for agents. The company had grown by combining more than a dozen regional insurance players, and as a result, Motorists found itself with a patchwork of inherited systems. These bits and pieces were joined by commercial lines and work-around processes, forcing agents through an obstacle course whenever they tried to do their jobs.
Embracing a new direction
The piecemeal infrastructure gave Motorists agents no choice but to maintain multiple accounts or use shared agency-level accounts. This made for long, frustrating workdays, with agents hopping in and out of portals every time they needed to access information belonging to each of the 16 different companies in the Motorists collective. Motorists' infrastructure lacked a single interface that would give agents easy and frictionless access to all 16 companies.
There was more at stake than agent buy-in. The overly complex infrastructure also posed a security risk; all those agent accounts caused password sprawl and password management issues.
With agent unrest growing, Tony DeAngelo, AVP of Information Security realized Motorists would need an end-to-end identity, access and governance solution to ease the security challenges and improve the agent experience.
"We wanted a solution that could support a hybrid environment—one that was easier to administer," says DeAngelo."The solution needed to be customer-centric and innovative--not just a bolt-on system to augment the legacy platforms. We really wanted to embrace a new direction."
Putting Okta at the helm
As DeAngelo's team shopped around, they realized the Okta Identity Cloud could effectively support their hybrid environment. They took the leap, restructuring Motorists' IT network with Okta as its IAM solution for associates and agents.
Originally, those agent identities and accounts were housed within multiple directories. Universal Directory made it possible to pull each agent's collection of accounts into a single "composite agent" identity.
Making this change would allow agents to easily access resources across the Motorists cloud and on-prem applications by authenticating into a single portal. The authentication process is powered by Okta API Products. The Customer Identity and Access Management (CIAM) solution provides a frictionless user experience by seamlessly and securely integrating a number of apps.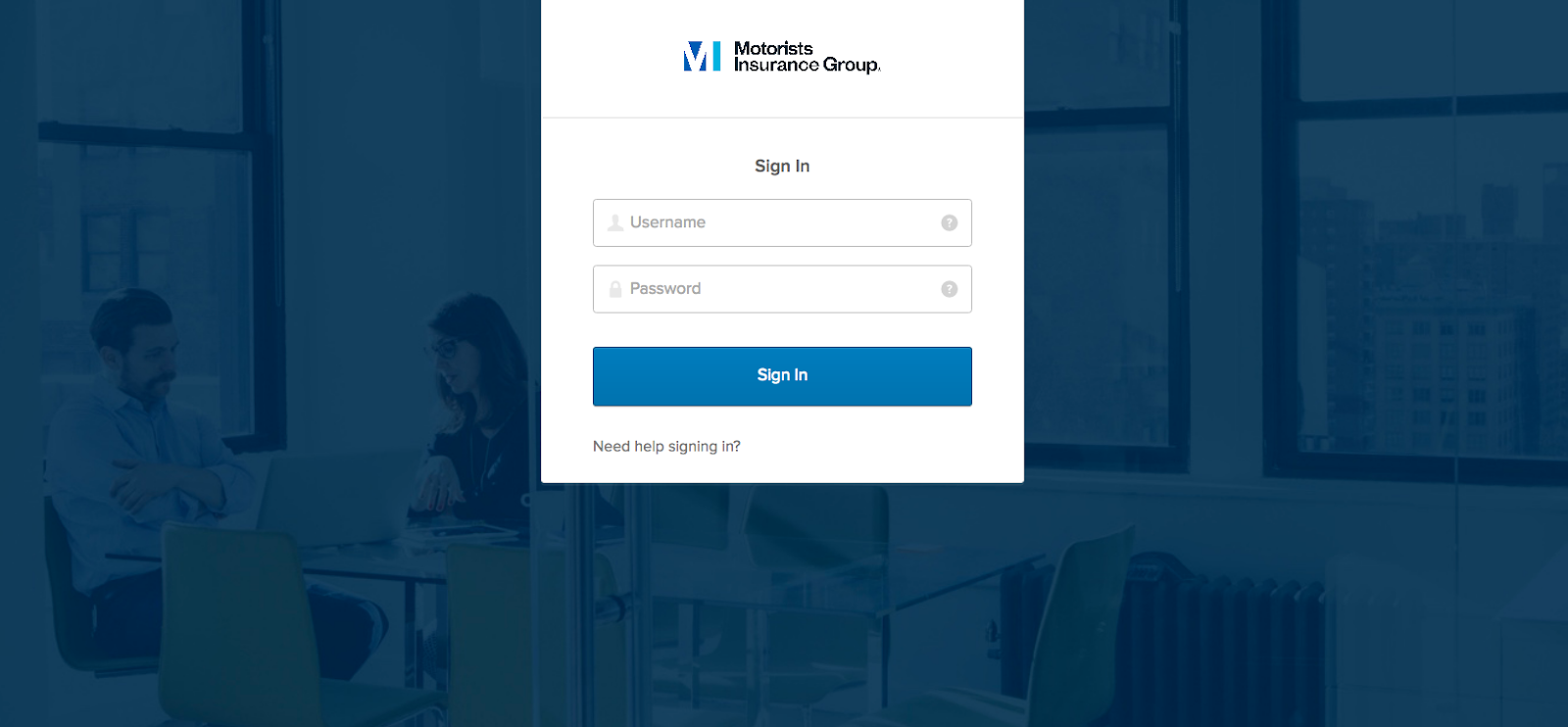 Gathering the pieces
Once Okta was implemented, Motorists tapped into the power of the Okta Integration Network, which supplies out-of-the-box connectors to more than 5,500 apps. The company started with Guidewire, placing the cloud-based insurance product at the core of its infrastructure. Guidewire is the key application to help manage policies, billings, and claims. After that product was deployed, Motorists added other integrations as the company's objective teams evaluated products and defined solutions.
"While our other integration efforts continued, we were still able to leverage Okta," says DeAngelo. "As the pieces became available, we fit the puzzle together."
The completed puzzle was a series of integrations that fit together neatly behind the scenes, while providing agents with a smooth, seamless user experience on the surface. The Okta Integration Network integrations don't require any customization, so setting up them up was a snap.
The scalable solution allows Motorists to seamlessly integrate cloud solutions, such as Microsoft Office 365 and Workday, and on-prem tools and back-office systems. Now, agents are able to access the tools they need through the same portal, regardless of where they are hosted. To achieve this, Motorists set up an integration with F5, which allowed them to leverage the security of SAML for their on-prem apps and provide a single access point to their agents.
"That integration allowed us to drive those solutions to a quick implementation. Bringing together F5 and Okta was one of our biggest wins in the whole business transformation process," says DeAngelo.
The agent experience is also much more intuitive, with MuleSoft serving up the right solutions to help agents manage and transact business. "Okta's integration with MuleSoft allows Motorists' agents to have seamless integration to APIs on the backend. That includes our core business line units, like claim center, business center, policy center, and billing center," says DeAngelo.
A security win
With an eye to improving security, Motorists also made changes that greatly improved visibility, taking a new approach to access management that focused on people, not products. "Now we know what the person is doing, and the activity the person is doing behind that, whether they're accessing the CRM platform, using Guidewire, or tapping into applications across the enterprise," says DeAngelo.
This is all possible because of an integration with SailPoint, which provides Motorists with identity governance, centrally managing on-prem provisioning and deprovisioning to ensure that authorized agents and agency staff have access to the assets they need to service policyholders efficiently. The product also lets Motorists centrally manage who has access to what according to business rules, job roles, context, and risk, with clear paths for workflows, approvals, and exceptions.
With Okta's identity and SailPoint's governance and provisioning working together, Motorists can now demonstrate compliance with confidence and ease. Okta becomes the identity solution that lets customers seamlessly pull together the best of breed products that work for them.
Meanwhile, IT can grant and maintain secure access and application provisioning according to established business policies that enforce compliance requirements and maintain an access audit trail for every identity in the organization.
Motorists can now ensure adherence with corporate policies and regulations through user-friendly access certifications and automated policy management controls, including separation-of-duty violation reporting.
"Our old legacy system was an on-prem behemoth. It was just a completely different experience working with Okta; it was much more innovative, it was much more in line with continuous improvement. It just worked," DeAngelo says. "Okta's one of those tools that rapidly makes security a business enabler. We were able to drive a lot of speed to market. We were able to integrate applications quickly."
As a result, the Motorists workflow is much simpler for everyone involved.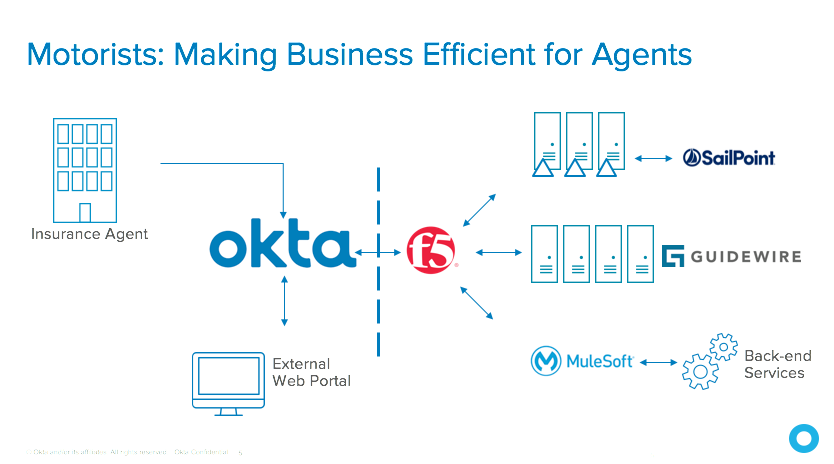 Going forward
This new approach has transformed Motorists' company culture. Today, Motorists is viewed by its network of independent agents as one company, providing one dynamic set of insurance products and services in one simple and seamless experience.
Surveyed agents report dramatically increased satisfaction, including reduced frustration around account management and fewer calls to IT for support. Technology has gone from being the challenge to being the solution, providing increased business value and facilitating efficient workflows.
Motorists has now realized its corporate vision of constant improvement and integrated new functionality, such as Adaptive MFA, further strengthening security, improving the agent experience, and providing a deeper level of self-service to policyholders.
Okta has definitely become core to Motorists' environment as the company looks at new partners, new vendors, and new solutions. The ability to integrate with Okta and leverage that direction and that seamless experience is very important to Motorists.
Success for Motorists means continuing this journey and continuing to integrate its new approach to identity access management, with this strategic alignment of Okta, SailPoint, Mulesoft, and F5.
"It's really getting that modern IT approach, getting the seamless experience for all our customers, whether internal or external," DeAngelo says. "Then having that visibility to really be able to ensure that we're providing that access securely."
DeAngelo says the main reason he would recommend Okta is simple. "It does what it promises, and it delivers," he says. "It really has been the most transformational tool that we've had in security that's positioned us to be seen as enablers."
About Motorists Insurance Group
The Motorists Insurance Group, Inc., through its subsidiaries, provides personal, commercial, and life insurance products. Motorists offers property and casualty insurance as well as provides brokerage services. The company provides its products through a network of agents.